This Sourdough Coffee Cake is naturally fermented and deliciously moist with bold flavors of various spices. It's perfect for any special occasion and one you will make over and over!
Growing up my mom made coffee cake every Sunday morning before church. She switched up the flavors and varieties all the time. As I got older I would pair the coffee cake with a cup of coffee and look forward to Sunday mornings all week.
Sunday's are my favorite day normally and for my Mom to make them even more special with a delicious cake in the morning is a tradition I love to look back on. And now that I bake myself, I am grateful for my Mom who took the time to lovingly prepare this treat for us weekly.
I did not continue this tradition with my own family only because I have so many other fun sourdough treats that we love to enjoy like my Sourdough Pancakes, Sourdough Monkey Bread and Sourdough Donuts.
But my family loves this coffee cake and it seems like my kids ask for coffee cake every other week 🙂 because who doesn't love cake for breakfast?
I have been making this Sourdough Coffee Cake for a few years and have finally written the recipe down to share.
How to make Sourdough Coffee Cake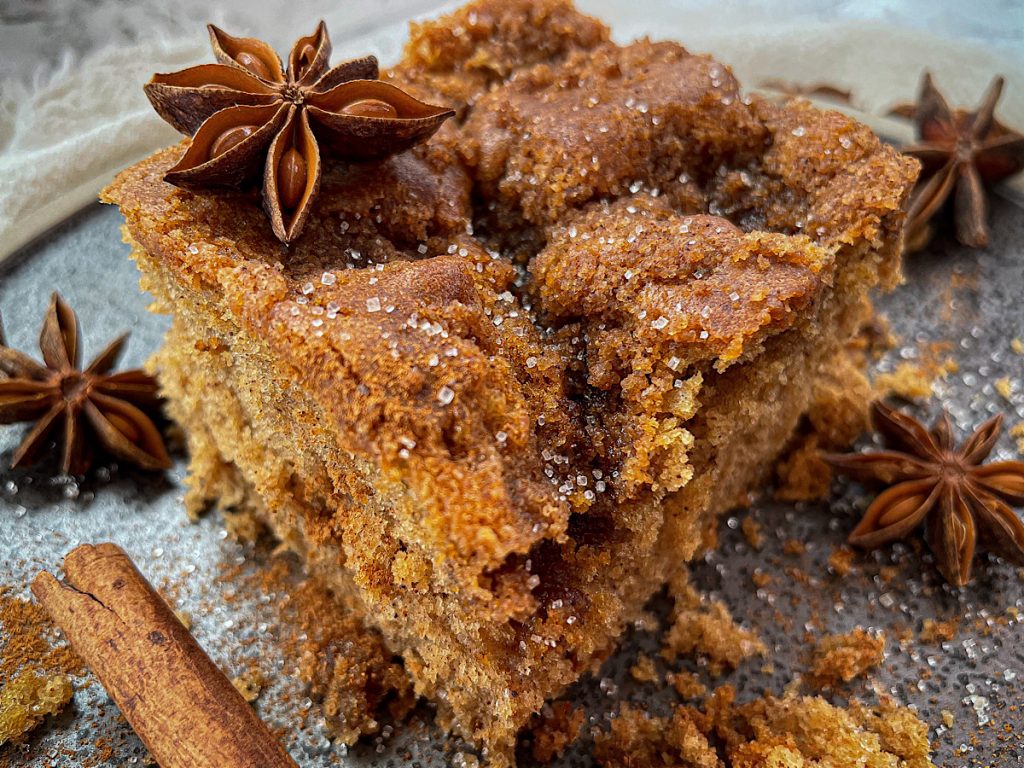 This Sourdough Coffee Cake is first made by creating a sponge to ferment the grains with sourdough starter, butter, flour, and water. Sourdough is fascinating because it breaks down the grains removing them from their anti nutrients and opening them up to allow more nutrients to become available to our bodies. I go into more detail here (Why Sourdough?)
If you do not have a Sourdough Starter I have a day by day guide that can help you get started. Find it here on How to Make a Sourdough Starter From Scratch.
After the sponge has fermented for 8-12 hours add the following ingredients with the sponge to a Stand mixer.
Vanilla
Eggs
Milk
Sugar (I prefer to use Organic Cane Sugar)
Cinnamon
Nutmeg
Cardamom
Molasses
Baking Soda
Baking Powder
Almond Extract
Add batter to a greased 9×13 pan. Add Crumb Streusel Topping and bake at 350 degrees for 45-50 minutes.
The Crumb Streusel Topping is delicious. It's made with brown sugar, flour (I use sprouted flour or you can use arrowroot powder), butter and cinnamon.
Options for Sourdough Coffee Cake
To make your cake free of refined sugars you can add 1/2 cup coconut sugar and 1/2 cup maple syrup in place of the cup of sugar in the cake. And for the streusel you can replace the brown sugar with coconut sugar.
To give the coffee cake an actual coffee addition, add 1/2 cup of strong coffee and 1/2 cup milk in place of the full 1 cup milk in the recipe.
You can double the crumb streusel and have an incredibly delicious crumbly topping that blankets your whole coffee cake.
Or double the streusel topping and add half of the cake batter to the greased pan. Then sprinkle half of the crumb streusel overtop. And add remaining batter over and add the rest of the streusel to the top.
Pin for Later: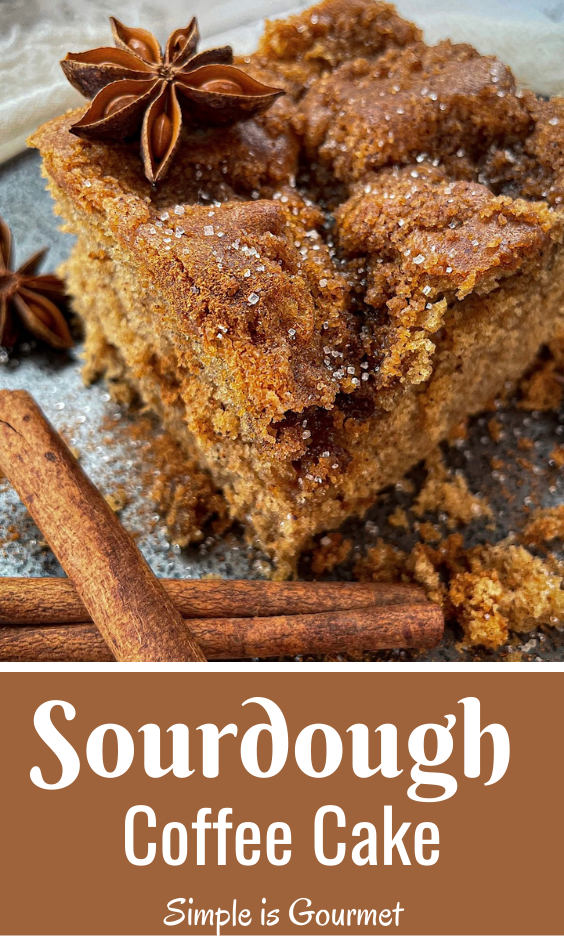 Let's Make Sourdough Coffee Cake!
Sourdough Coffee Cake
This Sourdough Coffee Cake is naturally fermented, deliciously moist and flavored with notes of various spices. It's perfect for any special occasion and one you will make over and over!
Ingredients
Sourdough Sponge
1 cup Melted Butter
400g Flour
60g Water
Batter after Ferment
Entire Sourdough Sponge (above)
2 eggs
1 cup Milk
1 cup Sugar
1 Tbsp Molasses
1/2 Tbsp Vanilla
1 tsp Almond Extract
2 tsp Cinnamon
1 tsp Nutmeg
1 tsp Cardamom
2 tsp Baking Soda
1 tsp Baking Powder
1 tsp Salt
Streusel Topping
2/3 cup Brown Sugar
2 Tbsp Flour or Arrowroot Powder
1/4 cup Softened Butter
2 tsp Cinnamon
Instructions
Prepare Sourdough Sponge: In Medium bowl mix together sourdough starter, melted butter, flour and water. Cover bowl tightly to keep air out and ferment sponge for 8-12 hours.
Batter after Ferment: your sponge should look slightly expanded and cracked after the ferment. Add entire sourdough sponge to a stand mixer.
Mix in eggs, milk, sugar, molasses, vanilla, almond extract, cinnamon, nutmeg, cardamom, baking soda, baking powder and salt. Mix on medium until well combined. Scraping down sides as you go because the sponge can get thick and you want to make sure you're fully incorporating all the ingredients together.
Streusel Topping: Combine brown sugar, flour (or arrowroot) softened butter and cinnamon in small bowl with fork. Combine well.
Add batter to greased or parchment lined 9x13 pan. Sprinkle streusel topping over batter.
Bake 350 degrees for 45-50 minutes until toothpick inserted comes out clean.
Enjoy!
Notes
Double topping for an even greater streusel topping. Or add half of the streusel to the center of the batter and add remaining streusel on top.
What occasion will you make this Sourdough Coffee Cake for?