This Homemade Ranch Dressing is delicious, creamy and loaded with incredible flavor. It's made with quality avocado oil and gets its flavor from spices and herbs that are free from any fake MSG or preservatives. You can easily whip it up in under 5 minutes. After giving this homemade ranch dressing a try you will never want store bought again!
I am from Chicago, and we LOVE to eat pizza with ranch dressing. I don't know the history behind this tradition or where it got started, but those who have tried it are immediately hooked.
As a child the best day ever was when we got to go to Chuck E. Cheese. We would order pizza for dinner and my sister and I would head straight to the salad bar. We were there for one only thing, and it wasn't for the greens. There we would drown our plates with the ranch dressing and eat it with our pizza. Looking back it was probably to mask the flavor and texture of their cheap cardboard pizza. But growing up, that was the best tasting combination ever!
In our minds, Chuck E. Cheese ranch dressing was the gold standard. It was the ranch dressing that we compared all other ranch dressings against. And no other restaurant could compete with our beloved Chuck E. Cheese ranch.
I look back on that memory and cringe because that food was likely the cheapest quality. But it's those memories that I enjoy taking and re-creating into wholesome, real foods that I feel comfortable feeding to my own children. And I can boldly write with confidence that this ranch is 100% better than Chuck E. Cheese ranch!
For the record, pizza and ranch really is delicious and I highly recommend trying the combination if you never have! But this award winning ranch isn't just for pizza. It also makes great salad dressing, vegetable dip and whatever else you love to use ranch for. This recipe really will blow your mind. It is more flavorful than store bought and has none of the harmful additives and preservatives.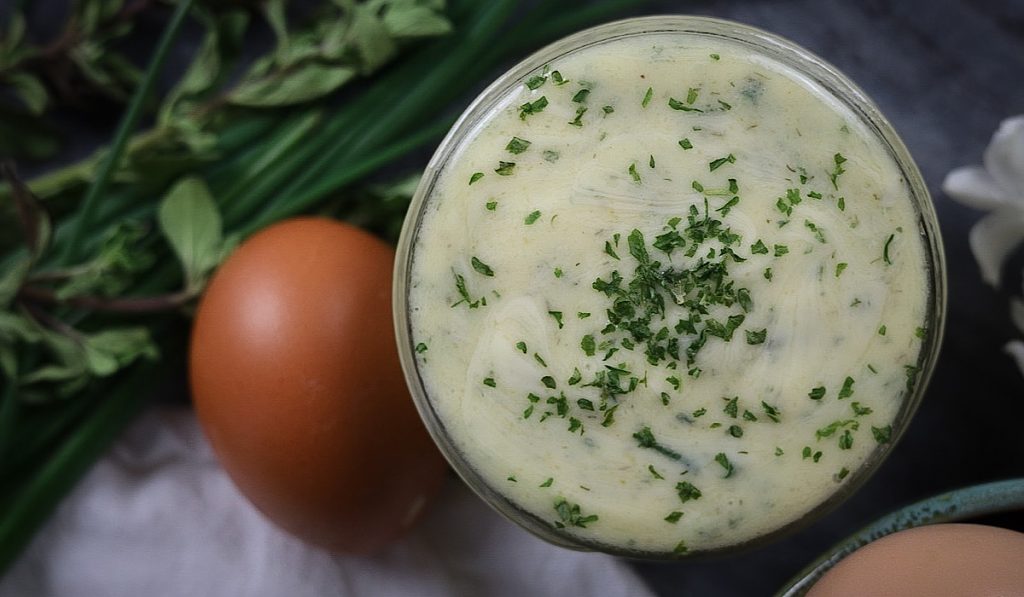 Simple Ingredients for Homemade Ranch Dressing
Mayonnaise (Recipe for my Homemade Mayo)
Parsley
Garlic Powder
Onion Powder
Chives
Dill
Unrefined Salt
Water or milk
Watch how to make Homemade Ranch Dressing
How to make Homemade Ranch Dressing
My recipe is made in two steps, but combined, they take less than 5 minutes. So in no time at all you can have this tasty dressing prepared.
First, make my homemade mayo. This is the first part of my recipe and takes less than 2 minutes. You may also use 1 cup of store bought mayonnaise. Just be sure to use a good quality mayo, preferably made with avocado oil.
Second, add the spices and herbs to the mayo with a little water and blend them all together using an immersion blender. I've combined the perfect blend of delicious herbs and spices to make this Homemade Ranch Dressing: Parsley, Garlic Powder, Onion Powder, Chives, Dill and Unrefined Salt (Why Salt?). You're going to love this combo!
It's Spring around here and I already have chives growing. Since I have fresh herbs available I prefer to use those over dried herbs. But this recipe tastes great with either fresh or dried herbs.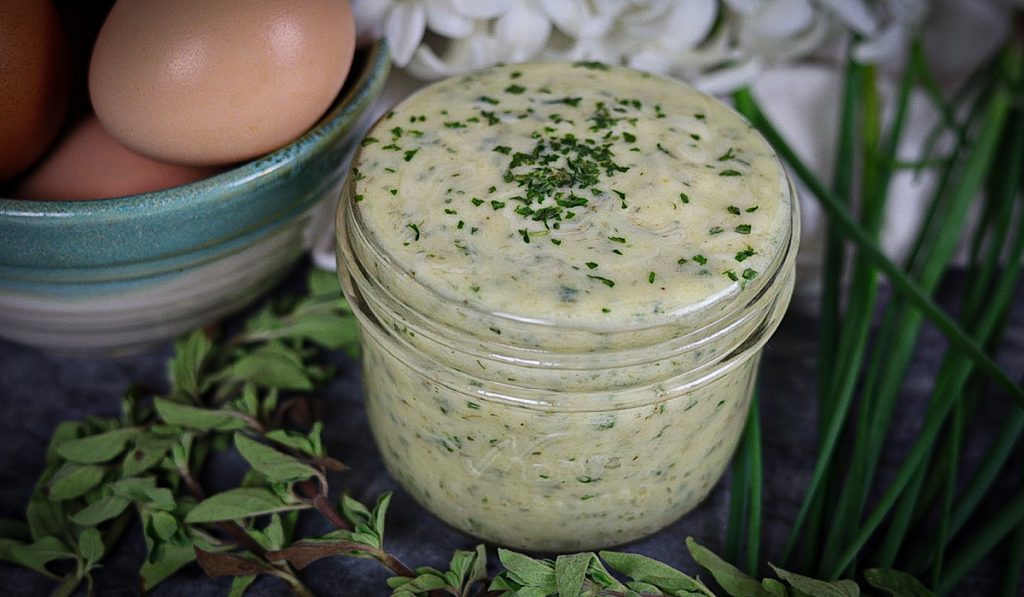 Pin for Later: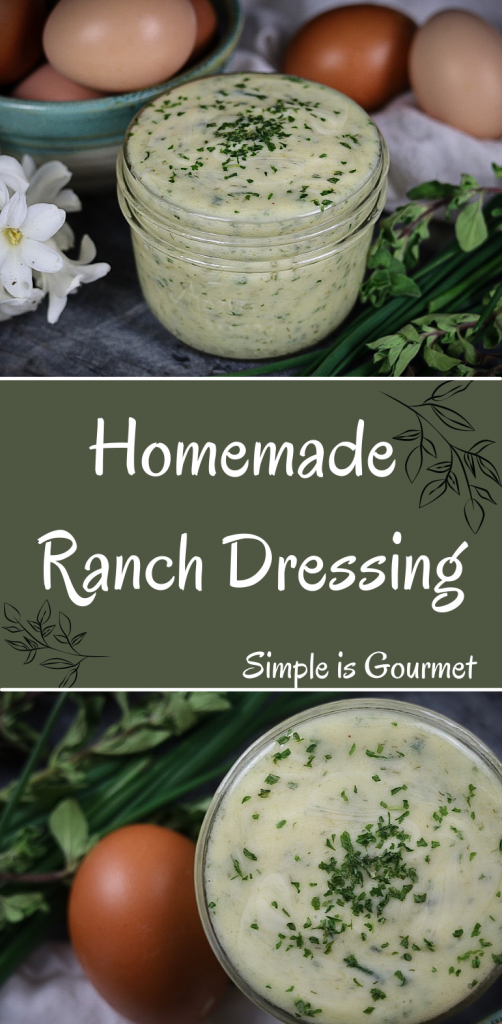 Let's make Homemade Ranch Dressing
Homemade Ranch Dressing
Ingredients
1 cup Homemade Mayonnaise (or high quality store bought)
3/4 cup Avocado Oil
1 egg, room temperature
1 tsp Dijon Mustard
1 tsp Distilled Vinegar
1/2 tsp Unrefined Salt
Ranch Dressing
1 tsp Parsley
1/2 tsp Garlic Powder
1/2 tsp Onion Powder
1 tsp Chives (fresh or dried)
1/2 tsp Dill (fresh or dried)
1/2 tsp Unrefined Salt
3 Tbsp water or milk
Instructions
Add 1 cup mayo to bowl or mason jar.
To make homemade mayo, add egg, avocado oil, dijon, vinegar and salt to a wide mouth mason jar. Stick immersion blender to the bottom of the jar. Blend on high for about 10 seconds, then slowly move the stick up to mix ingredients near the top. Continue to move stick up and down to blend all ingredients together. This makes about 1 cup of mayonnaise and you will use off of it to make this ranch.
To the same jar of mayonnaise add parsley, garlic powder, onion powder, chives, dill, salt and water. Add immersion blender back into the jar and blend all the ingredients together.
Serve immediately or cap and place in fridge to slightly thicken.
Notes
This Ranch Dressing will last in your fridge for at least 2 weeks.
If the Ranch is left out of the fridge too long the oil may start to separate. Just give it a mix, and put back in the fridge to thicken back up.
Shop: