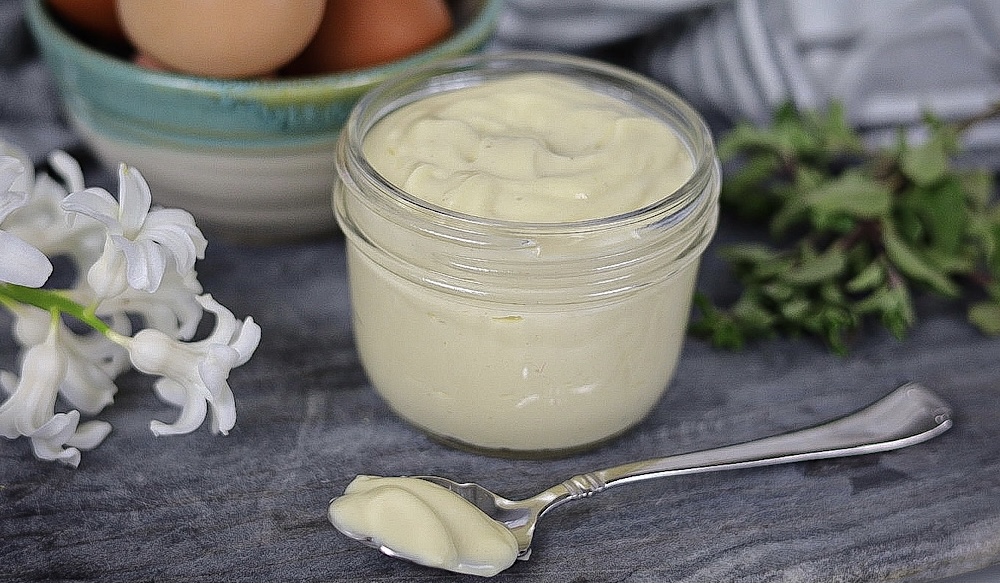 Homemade mayo is magical. This foolproof recipe is so easy and delicious and can be made in about 2 minutes or less. Plus it's made with real ingredients that are already in your pantry. A winning recipe all around!
Why Make Homemade Mayonnaise?
It's delicious! You really can taste the difference! It's so creamy and fresh. And it can be the base to so many more recipes (which I will share with you soon).
It's much healthier. This mayo is the highest quality and you control the ingredients. Avocado oil is the ingredient in the highest quality store bought mayo while most low cost mayo is made with GMO Soybean Oil. This oil can be very inflammatory for our guts. (Why Fat's?) But store bought mayo is also packed with sugar, EDTA (preservative) and natural flavors (which is a deceiving word for artificial flavors). What's even scarier are the labels that state, "REAL Mayonnaise". Do not be fooled! Reading label ingredients is necessary these days because unfortunately there is not a whole lot of real left on store shelves anymore. This is why I love to make everything from scratch. So you're in the right place. I'm glad you're here to find out how to make the REAL Mayonnaise.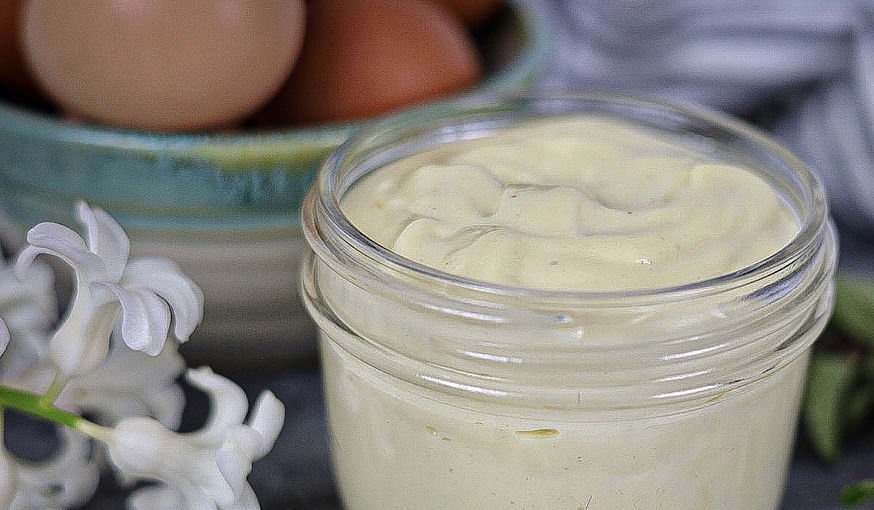 Ingredients:
3/4 cup Avocado Oil — This is used because of its light and neutral flavor. I also love avocado oil because it's a great healthy fat. (Read more about Why Healthy Fat's)
1 Egg at room temperature — I always recommend organic or farm fresh eggs. Pastured eggs would be the best! Vital Farms egg yokes are so rich in color and make a delicious flavored mayo. Vital Farms is sold at most grocery stores now.
1 tsp Distilled Vinegar — This is an ingredient that is always on hand so I love to use vinegar for the acid portion of my homemade mayo.
1 tsp Dijon Mustard — this gives your mayo some flavor and helps emulsify the ingredients.
1/2 tsp Unrefined Salt — I love to use Pink Himalayan Salt or Redmonds Real Salt. (Read more about Why Salt?)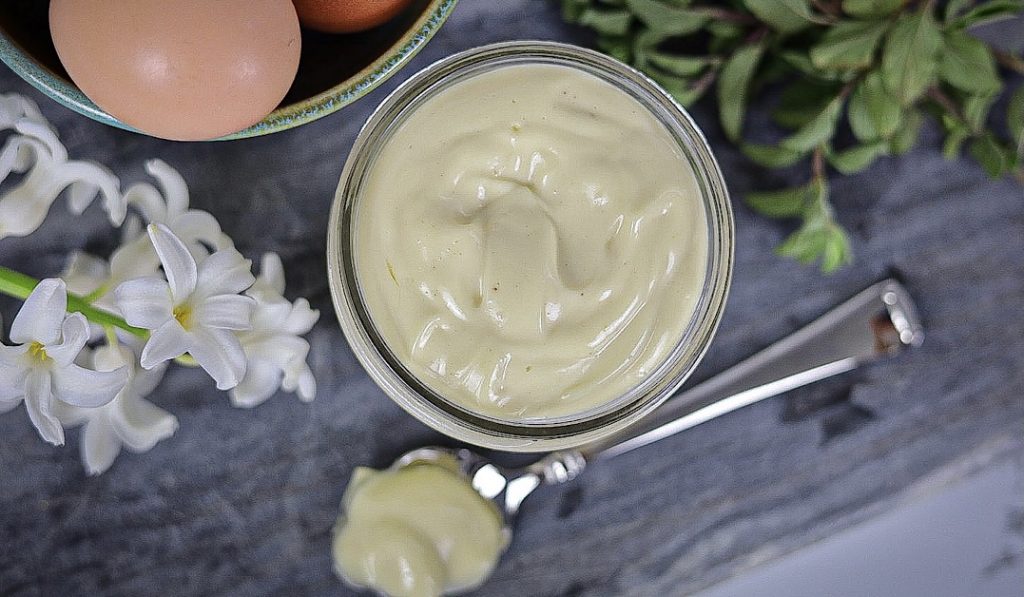 How To make Homemade Mayonnaise
As I mentioned above, you can make this mayo in under 2 minutes. I love to make it in a wide mouth, pint sized mason jar. I use the measuring marks on the sides so I don't have to dirty a measuring cup. The immersion blender fits easily through the mouth of the jar and I can conveniently cap it and put it in the fridge. As for the ingredients, it's as simple as adding an egg, avocado oil, vinegar, dijon and salt to a mason jar. Start with the immersion blender at the bottom of the jar and slowly pull it up to mix it all together. This emulsifies your ingredients (a fancy word for combining all the ingredients that don't naturally mix together).
That's it! You can make homemade mayo quicker than it would take you to drive to the closest grocery store to purchase some.
Watch How to Make Homemade Mayonnaise
How to Store your Homemade Mayonnaise
If you used a wide mouth mason jar to make your mayo, simply cap your jar and place it in the fridge. If you used something else, like a cup, just add your mayo to an airtight container. The mayo will firm up a bit in the fridge. I recommend marking your container with the date you made your mayo. Otherwise I can almost guarantee you will forget when you made it. Homemade mayo will last a solid 2 weeks in the fridge if you're using fresh eggs. If your eggs are nearing expiration, then adjust accordingly. Since I use our farm fresh eggs our mayo lasts two weeks. I've even let it go longer without thinking twice about it.
Substitutions
Avocado oil can be substituted for olive oil. I started out making my mayo with olive oil but switched because the flavor is more neutral and light tasting with avocado oil. Olive oil will give you a much stronger flavor. I prefer the taste with avocado oil.
Distilled vinegar may be substituted for lemon juice. I don't always have lemons on hand, so vinegar is my go-to.
Dijon mustard can be substituted for any kind of mustard. I've used spicy mustard and love that too.
Pin for Later: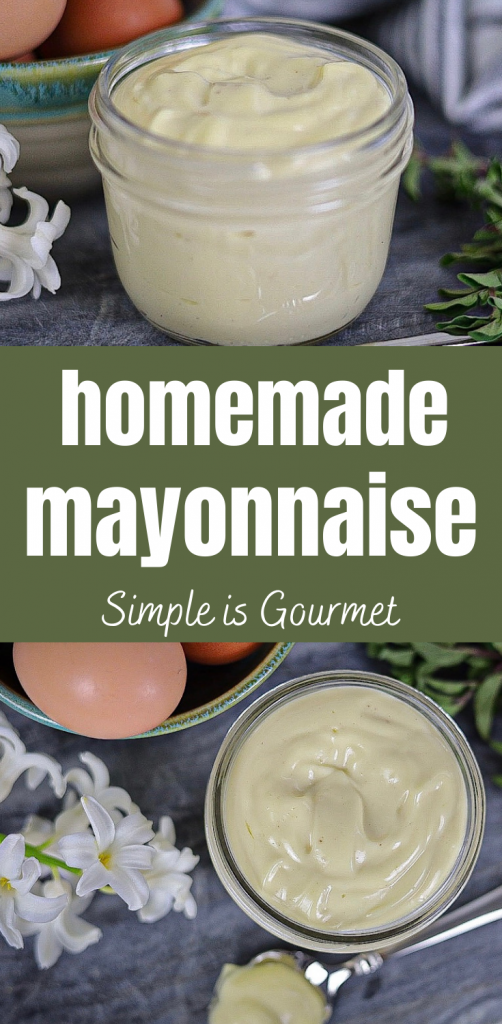 Let's Make Some Homemade Mayo:
Homemade Mayo
Ingredients
3/4 cup Avocado Oil
1 egg, room temperature
1 tsp Dijon Mustard
1 tsp Vinegar
1/2 tsp Unrefined Salt
Instructions
Pour 3/4 avocado oil into a wide mouth jar. (be sure your immersion blender fits inside your jar) Crack egg and add to oil. Add dijon, vinegar and salt.
Insert your immersion blender until it touches the bottom of the jar. Turn the immersion blender on to high. Keep it rested on the bottom of the jar and mix for about 10 seconds. You will see the contents start to emulsify.
Slowly pull the immersion blender up to mix ingredients near the top. Continue to move the blender up and down until all the ingredients have been mixed together and you have a creamy looking mayo.
You may use immediately or store in a sealed glass jar in the fridge. Adding it to the fridge will help thicken the mayo.
Notes
Check the expiration date of your eggs. Depending on that date, your mayo will last in the fridge for about 2 weeks.
Write the date you made it on your jar otherwise I guarantee you'll forget how long it's been in your fridge.
Shop:
The following are affiliate links to my amazon shop.