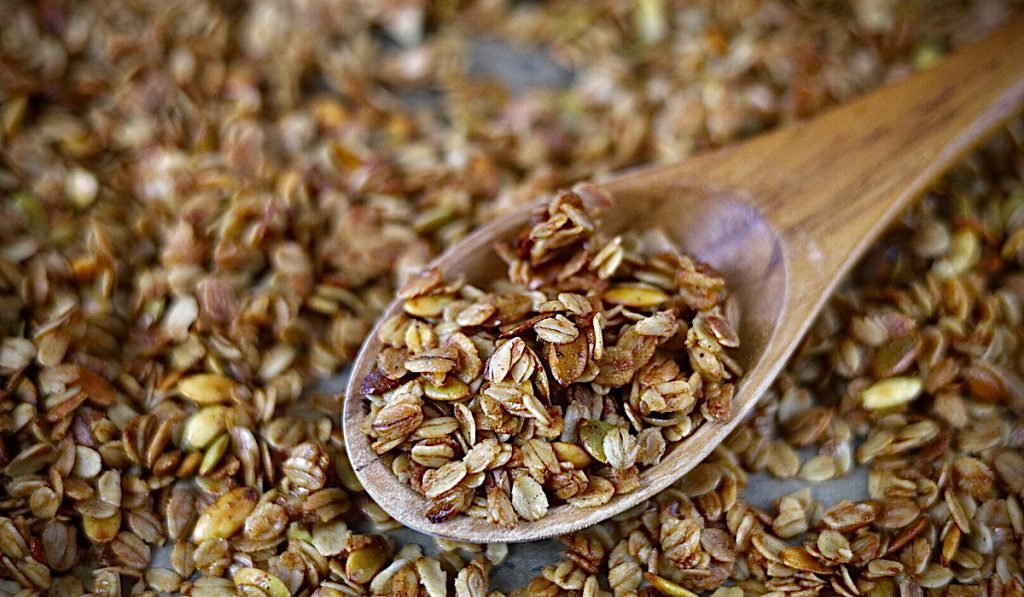 This homemade granola is bursting with flavor! It's the perfect oat to nut ratio combined with coconut oil, natural sweeteners, and subtle hints of vanilla, sweet almond and spices. Whether you need a quick snack or a crunchy topping to your yogurt parfait, I guarantee this granola will be on your continuous baking reel!
Why Make homemade granola?
You control the ingredients. I say this all the time, but it's so important and why I started this blog. Store bought granola always looks so good and seems like a delicious healthy snack. But let me explain quickly that many granola choices have ingredients that are not the best to nourish our bodies with.
First, oats are highly sprayed with pesticides and most granola is not made with organic oats. Second, there is a good chance store bought granola is made with refined sunflower/safflower or canola oil. Third, they are sweetened with refined sugars and rice syrups. Lastly, many have natural flavoring, which is a glorified term for artificial flavoring.
Thanks but no thanks store bought granola. You may be tempting in your pretty packaging on the store shelves, but I'll stick with my simple yet delicious homemade granola made with REAL ingredients.
What are the ingredients?
Oats, nuts, coconut oil, maple syrup or honey, spices and vanilla and almond extract. But you certainly are not limited to these ingredients. Use this recipe as a guide, and add or replace whatever you prefer. Granola is flexible and as long as the wet ingredients are fully incorporated into the dry, you will have a winning recipe every time!
Why I use these ingredients
Non organic oats are highly sprayed with toxic pesticides, which is why I always recommend sourcing organic! (Why organic?) I talk about One Degree Organics on Instagram all the time because I love this brand. They are farmers who are doing things right! Their oats check all the boxes. They are organic, glyphosate free, gluten free AND they're sprouted making their nutrition more available to our bodies (Why sprouted?)
The recipe calls for one cup of nuts. When I don't have walnuts, I substitute with sprouted pumpkin seeds. I love them for the same reason as the sprouted oats. Better for digestion.
If you follow me on social media you hear me say often that fat is where it's at! I love to use coconut oil in this recipe. It's important to source high quality coconut oil to reap all the nutritional benefits. I recommend organic, unrefined, cold pressed, virgin coconut oil. This will be the least processed and most pure. (Why Fats?)
I use honey and maple syrup to naturally sweeten this granola. Honestly, you can hardly tell the difference between granola made with processed brown sugar and granola that is naturally sweetened. When people try my granola it wins every time. I love to find healthier alternatives to refined sugars, and in my opinion, maple syrup and honey are one of God's delicious gifts to us! (Why Real Sugars?)
You will notice that if I have cinnamon in a recipe, I almost always pair it with nutmeg. These two spices are the perfect pairing. I can't have one without the other. Then add the vanilla and almond extracts, and your granola is off the hook!
How to make Homemade granola?
It really doesn't get any simpler. And I bet I can explain the recipe to you in less than 25 words. Ready?
In large bowl combine dry ingredients. Separately mix wet ingredients. Thoroughly mix everything together. Pour on cookie sheet. Bake 350 degrees for 22-25 minutes.
Don't worry, my recipe below gives you a little bit more detail. But not that much more. I'm trying to convince you how easy this is to make. You're going to fall in love with every detail of this homemade granola!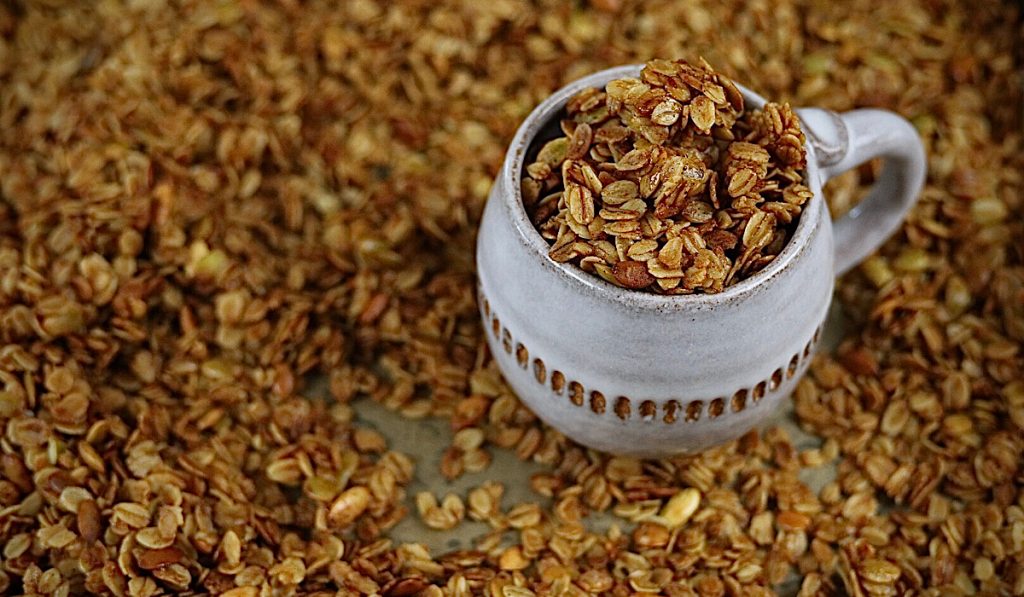 Browned Butter instead of Coconut Oil:
Instead of baking with coconut oil, try browned butter. It's still a healthy fat, and the nutty flavor from the browned butter is incredibly addicting!
Simply melt one cup of butter on stove in a medium size pan over low heat. Bring butter to a slow boil. The butter will appear foamy and grow slightly, that's why I suggest using a medium sized pan.
After about 5 minutes, whisk the butter. It will still be foamy, but as you keep mixing you will slowly start to see the color change from yellow to brown. There may even be some brown specks at the bottom.
The smell will also change and become nutty flavored. Once you've reached this browned butter status, remove from heat.
Follow the rest of the recipe directions.
You may notice that as you go to mix the oats half way through baking that the butter appears to make the oats look like it's sitting in buttery liquid.
It's okay, the liquid cooks down. Just mix the oats and watch them because you may need to increase the baking time about 5-10 minutes.
Watch them carefully because they turn brown quickly!
Get creative with mix in's
Dried Fruits: apricots, blueberries, cranberries, raisins, cherries, mangos
Nut or Seed Variety (whole, slivered or chopped): peanuts, pistachios, cashews, macadamia, almonds, walnuts, pecans, sunflower seeds, hazelnuts and our favorite pumpkin seeds
Flax Seeds
Chia Seeds
Hemp Hearts
Dried or Toasted Coconut
Chocolate Chips
Let me know in the comments below what your favorite mix in's are.
Pin for Later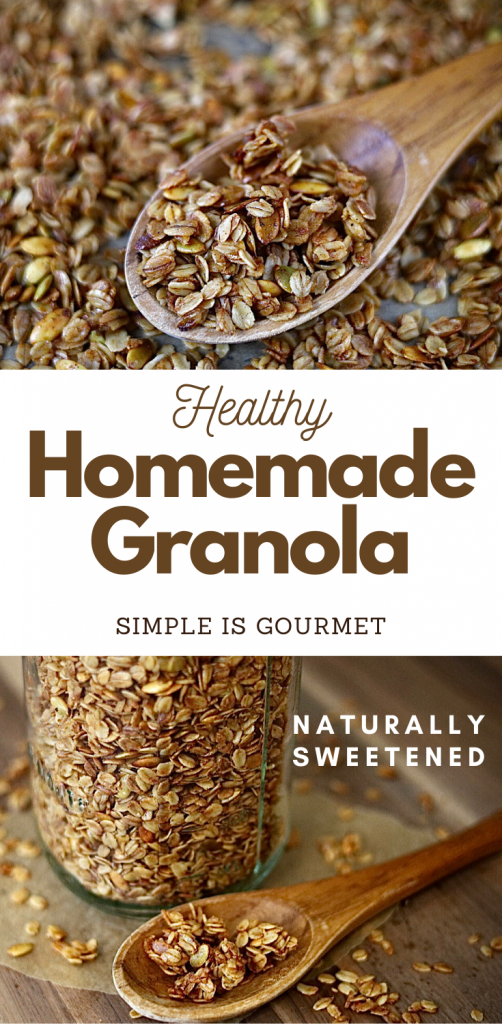 Let's get baking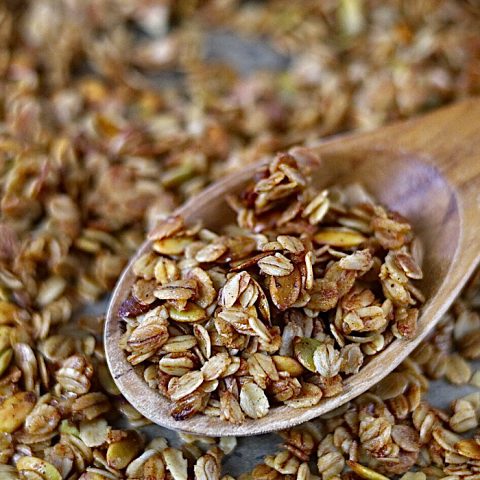 Homemade Granola
Ingredients
5 cups organic rolled or old fashioned oats
1 cup mixed nuts or seeds
1 1/2 tsp cinnamon
1/4 tsp nutmeg
1 tsp unrefined salt
3/4 cup melted coconut oil (or browned butter--see post)
3/4 cup maple syrup and/or honey
1 tsp vanilla
1 tsp almond extract
Instructions
Preheat oven to 350 degrees F. Line parchment paper onto a large cookie sheet.
In large mixing bowl, mix together and combine oats, nuts, cinnamon, nutmeg and salt.
Melt coconut oil in sauce pan on your stove over low heat. Once melted, remove from heat and mix in maple syrup and/or honey and vanilla and almond extracts.
Pour wet ingredients overtop dry ingredients and mix until all the dry ingredients appear to be lightly coated.
Pour out granola onto prepared cookie sheet. Spread out evenly and lightly press granola down onto cookie sheet. This will help clump together the granola.
Bake for 22-25 minutes stirring granola halfway through and pressing oats down again. Check granola around 22 minutes, and mix the oats again. Bake for another minute. Continue to do this in one minute intervals until the oats are golden brown. **If using Sprouted Oats by One Degree Organics, increase the baking time to 30-35 minutes**
Resist the temptation to eat, and allow your granola to cool completely. This will allow the natural sweeteners to harden, crisp up and clump together as it cools.
Store in an airtight container (I prefer a half gallon mason jar) for up to 2 weeks.
Notes
If you're using a sprouted rolled oats like the brand One Degree Organics, you will need to increase the cooking time by 10 minutes.
Add in the mix in's like chocolate and toasted coconut after granola has cooled completely.
Shop:
The following are affiliate links to my Amazon shop.