I'm telling you this recipe is the best homemade raw ice cream. It is nutrient dense and made with clean, whole, real foods. Honestly I'd give my kids this ice cream for breakfast!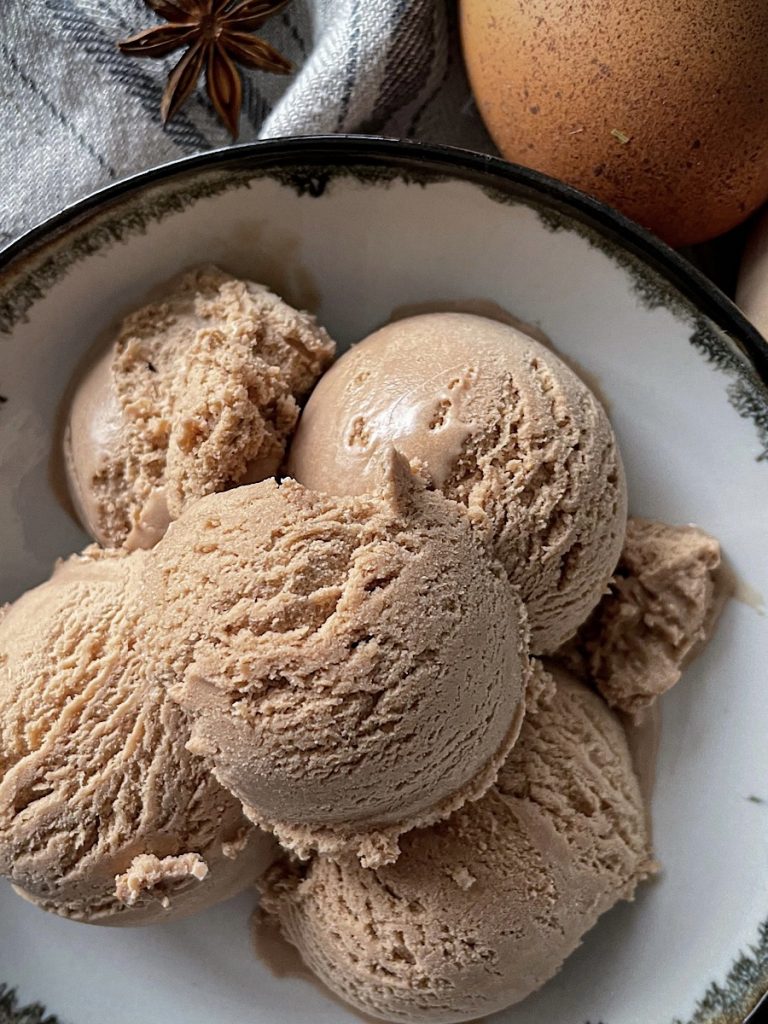 Let me tell you a little secret. Growing up ice cream was at the bottom of the list when it came to desserts for me. Maybe it's because I never made my own 😉
This homemade ice cream is so decadent, creamy and best of all nutritious! It gets it deep nutrition from raw cream, raw milk, pastured egg yolks, and pure maple syrup. It's the real deal.
Now you don't have to use all these ingredients raw if you don't have access to them. This recipe can certainly be made with pastured cream, whole milk and conventional eggs.
Just err on the side of caution when it comes to sourcing your ingredients. If you go the store bought route I suggest purchasing organic cream and milk, along with pastured eggs to keep as much nutrition as possible in this ice cream.
Do I need an ice cream maker?
Yes. This recipe does require an ice cream maker to churn the ice cream. I got one a few years ago and absolutely love it! Here is the one I have.
I know a few friends have been fortunate to find an ice cream maker at thrift stores. So search around if you aren't willing to buy one yet. Or ask for one for your birthday or Christmas.
KitchenAid also makes an ice cream attachment that I used for years and it works great. I no longer have a KitchenAid, so that's the only reason I don't use that ice cream maker anymore.
As a mom of 4 little kids I believe this ice cream maker is worth the investment. And coming from someone who didn't love ice cream growing up, I now make ice cream all the time! And my kids, and Hubby, are grateful for it 🙂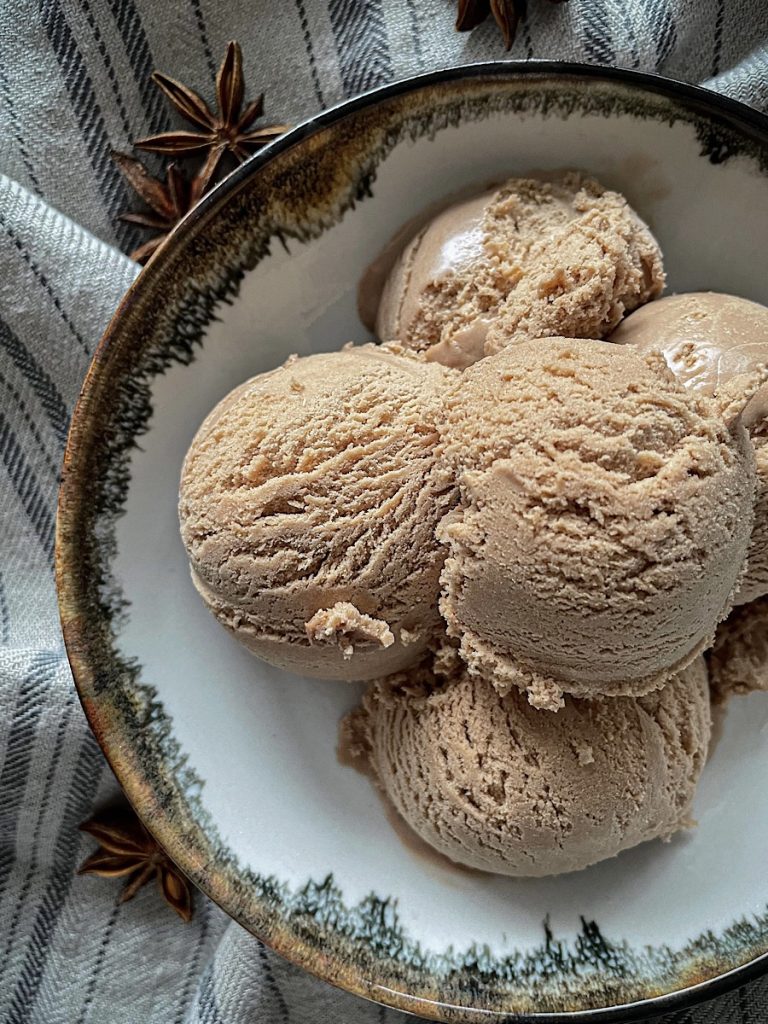 Ingredients to make The Best Homemade Raw Ice Cream
This is my basic vanilla recipe. Below you will find more ice cream variations based off the basic recipe below.
Raw Cream (Or conventional Heavy Cream)
Whole Milk
Egg yolks
Maple Syrup
Arrowroot Powder
Vanilla
How to make The Best Homemade Raw Ice Cream
Add all the ingredients listed above to a blender and blend on high until everything is well combined. Should take less than a minute.
Add blended cream to a churning ice cream maker and follow the directions for you ice cream maker.
That's it! No boiling, no fuss. So simple, delicious and nutritious!
Try These Ice Cream Variations:
The following are simple flavorful additions to add to the basic vanilla recipe listed below.
Chocolate Ice Cream:
Add 1/2 cup cacao powder when blending.
Optional: Add one cup of your favorite chocolate chips during the last 5 minutes of your ice cream churning.
Fresh Strawberry Ice Cream:
Add 1 cup pureed strawberries when blending ingredients together.
Fold in small strawberry chunks after ice cream is churned.
Mint Chocolate Chip Ice Cream:
Add 1 tsp mint extract when blending.
Fold in 1 cup of your favorite chocolate chips after ice cream is done churning.
Coffee Ice Cream:
The day before you want to make the ice cream, freshly grind 55 grams of coffee beans. Add grounds to a jar and add 1 1/2 cups whole milk (you lose 1/2 cup milk here after straining that's why the milk is increased by 1/2 cup) Cover and shake until grounds are infused into milk. Refrigerate for 24 hours. Shake grounds into the milk every time you think about it or open the fridge to really help infuse the coffee into the milk! Trust me–it helps!
The following day when you're ready to make the ice cream strain the grounds from the milk with a fine strainer! You don't want any grounds in the milk, so do your best to separate coffee grounds from milk.
The infused coffee milk should equal about 1 cup of milk. This replaces the 1 cup whole milk in the basic recipe. Follow the rest of the ice cream directions to complete.
You will be surprised that infusion is all it takes to make a wicked good coffee flavored ice cream!
Enjoy–this one is my favorite 🙂
Vanilla Chai Ice Cream:
Increase the Vanilla to 2 Tbsp and add 1 tsp ground cinnamon, 1/2 tsp all spice, 1/2 tsp ground cardamom, 1/4 tsp ground cloves to the blender when mixing the basic recipe all together.
Probiotic Rich Ice Cream
Add 1/2 cup raw Kiefer to the basic recipe.
Additions to fold into basic vanilla recipe:
Chocolate Chips
Toasted Coconut
Nuts
Fruit (Strawberries, blueberries, peaches)
Cookies (Sourdough Cookies to be exact 🙂
Jam
Pin for Later: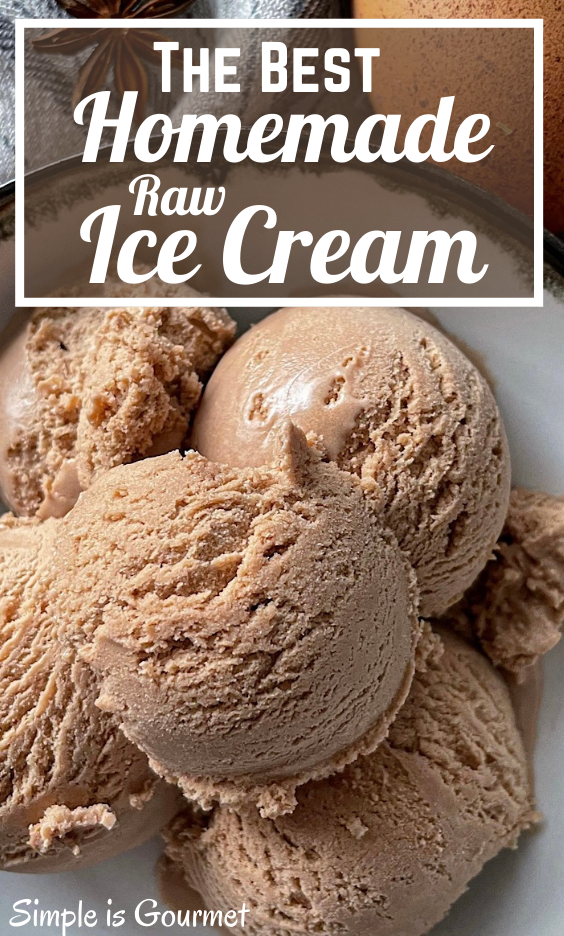 What's your favorite Ice Cream? Tell me below, I'd love to hear!
Let's make The Best Homemade Raw Ice Cream
The Best Homemade Raw Ice Cream
I'm telling you this recipe is the best homemade raw ice cream. It is nutrient dense and made with clean, whole real foods. Honestly I'd give my kids this for breakfast!
Ingredients
2 1/2 cups (20oz) Raw or Heavy Cream
1 cup Whole Milk
3 egg Yolks
1/2 cup Maple Syrup
1 Tbsp Arrowroot Powder
1 1/2 Tbsp Vanilla
Instructions
Add cream, milk, egg yolks, maple syrup, arrowroot and vanilla to a blender. Blend on high for 30-45 seconds until well mixed together.
Pour mixture into churning ice cream maker.
Follow ice cream makers directions.
Enjoy!
Notes
This is the basic vanilla recipe, see post for more delicious ice cream variations and additions.
Links:
Ice cream attachment for KitchenAid