Whether you're a sourdough pro or just starting out, this loaf is for you. It's perfectly soft and fluffy on the inside and deliciously crunchy on the outside. Add a little farm fresh butter and some raw honey and the entire loaf might just get devoured in one sitting.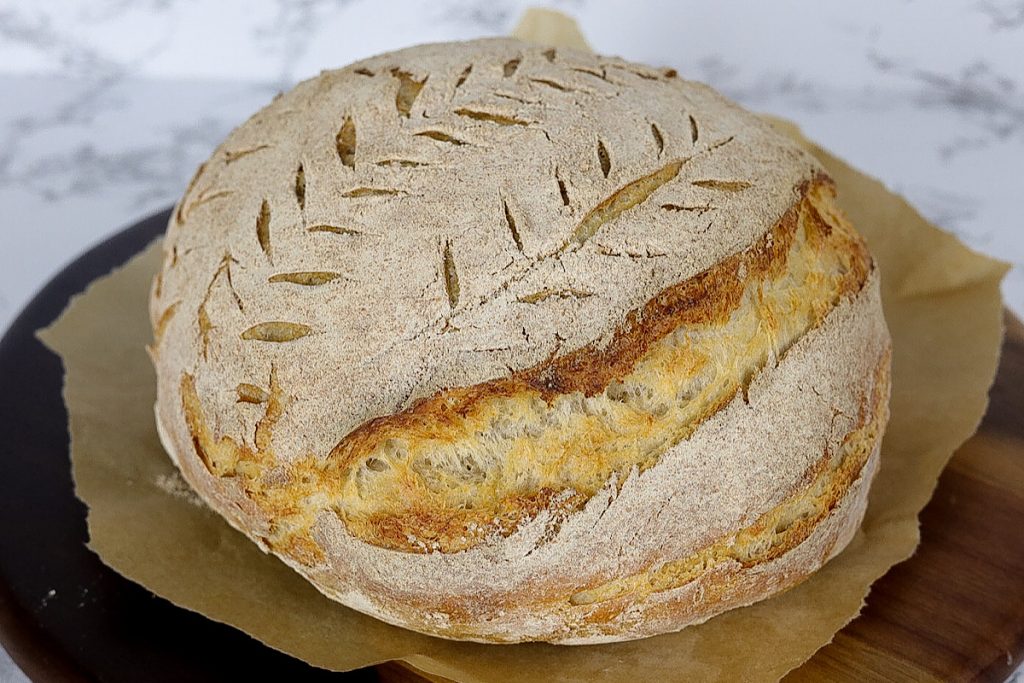 What you need to get started
Kitchen scale
Large glass bowl
Towel for covering dough in bowl
Medium bowl or Banneton (link below)
Parchment paper
Household razor blade, bread lame or sharp knife to score bread before baking
Dutch oven to bake your bread in
Sourdough thrives with precision and a kitchen scale guarantees consistency. It took me a whole year of failed loaves to figure this out. Below is the link to the kitchen scale I use.
A large glass or plastic bowl is needed for the dough to rest in. Do not use metal or the natural yeast may react against it. Use a towel to cover the dough between folds.
Shape your dough then add it to a banneton to proof. If you don't own one of these yet, you can simply use a medium size bowl with a tea towel or cheesecloth laid in the bottom. Flour the towel liberally so the dough doesn't stick to it. If you want one of these cool baskets, my link is posted below.
After your dough proofs, flip it onto parchment paper and score it with a sharp blade. The score marks allow your bread to open up and expand as it cooks. Scoring can be as simple as an X on top or as detailed as leaves covering your entire loaf. The possibilities are endless. Have fun with your designs and experiment with each new loaf you make. If you forget this step, it's ok. The bread has a mind of its own and will still turn out great.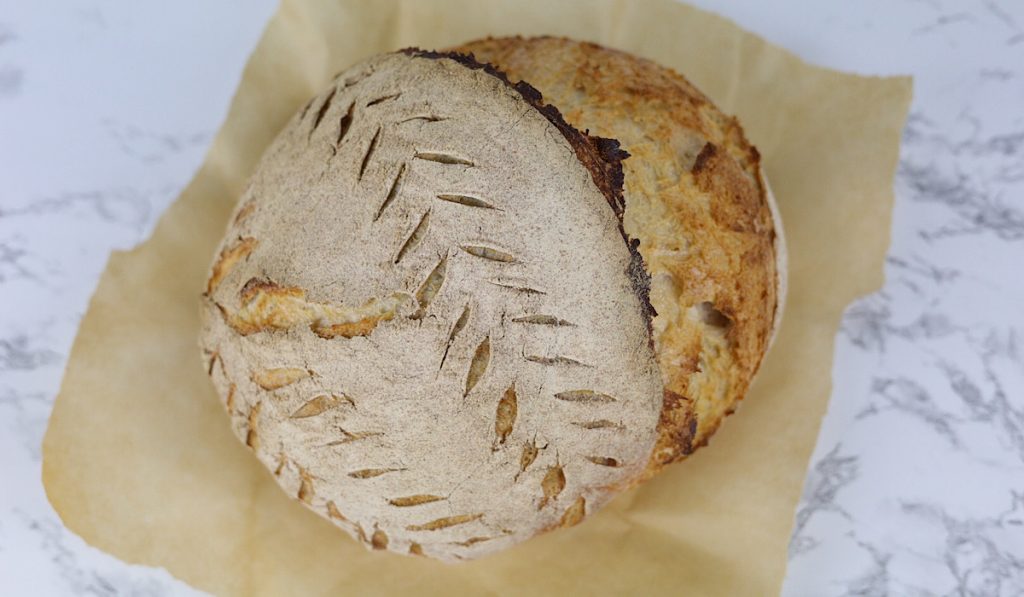 I highly recommend baking your bread on parchment paper in a preheated dutch oven. The steam released from the dough is captured within the dutch oven and gives your bread that delicious, crunchy outer layer.
If you do not own a dutch oven, you can preheat your oven for 30 minutes with a cookie sheet on the bottom rack. When you add your dough wrapped in parchment paper to the upper rack, pour two cups of water into your cookie sheet. Quickly close the door to capture the steam in the oven. This will help your dough rise and give it the crunchy outer layer we all love.
Only 3 Ingredients
175 grams active sourdough starter (that passes the float test)
300 grams filtered water
450 grams unbleached flour (not enriched, and I always recommend organic)
12 grams unrefined salt (I love to use pink himalayan salt)
It's pretty amazing that this delicious loaf only contains 3 ingredients. It's why I love homemade sourdough and especially this beginner's sourdough loaf. The ingredients are simple and it's easy to make. If you still need a starter of your own, click here to learn how to make one. To read more about the benefits of sourdough, click here.
What's the float test?
Fill a small cup full with water. Remove about a teaspoon of your active starter and place in the cup of water. If it floats, your starter is active and ready to bake with. If it sinks, give your starter another feeding and try again in about 4 hours. This test is not necessary each time you bake. It is really just a technique you can use to help you determine if your starter is active enough. The more you bake and get a feel for how your starter works, you will no longer need to do the float test.
Try This!
To keep my Sourdough Bread moist and soft much longer (if it even lasts that long) I add 1 Tablespoon Avocado Oil and 1 Tablespoon Raw Honey to the water and starter mixture at the beginning of the bread making process.
This addition keeps my bread nice and soft and prevents it from becoming a little dry as it sits on the counter for a few days. Give this a try and let me know how you like these simple additions.
Here are a few helpful pictures of the bread making process.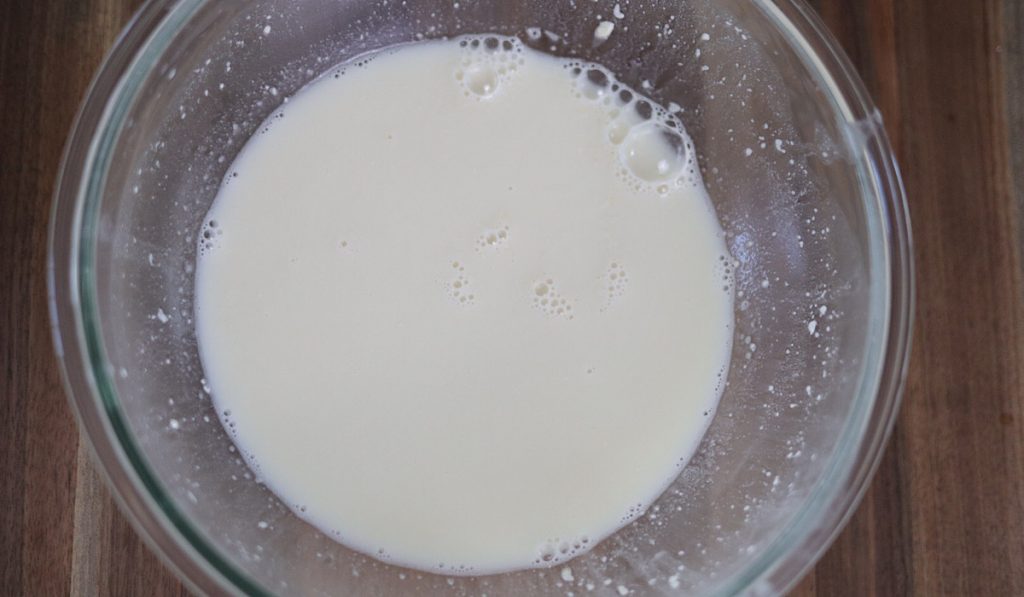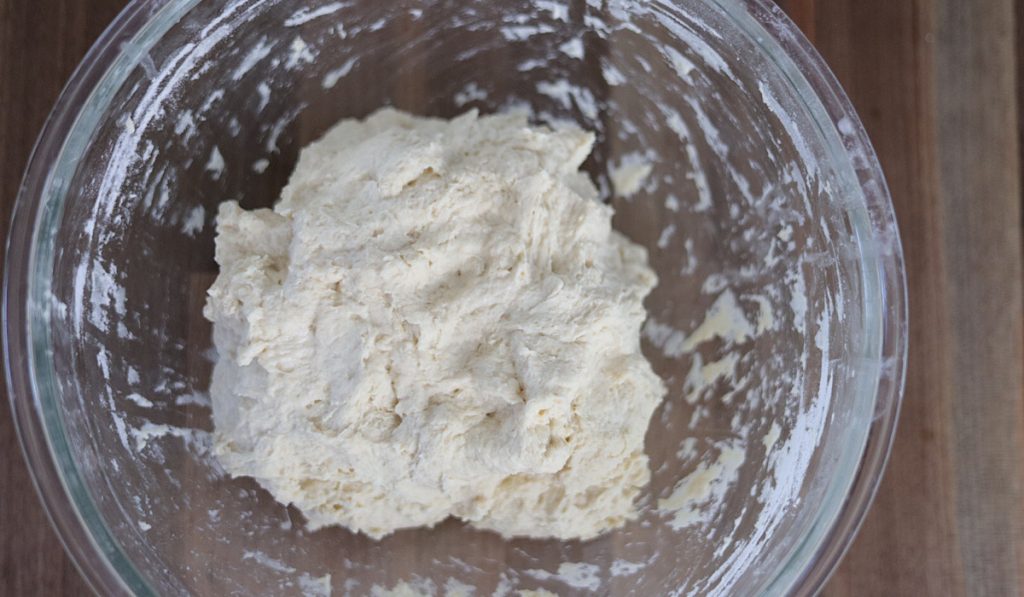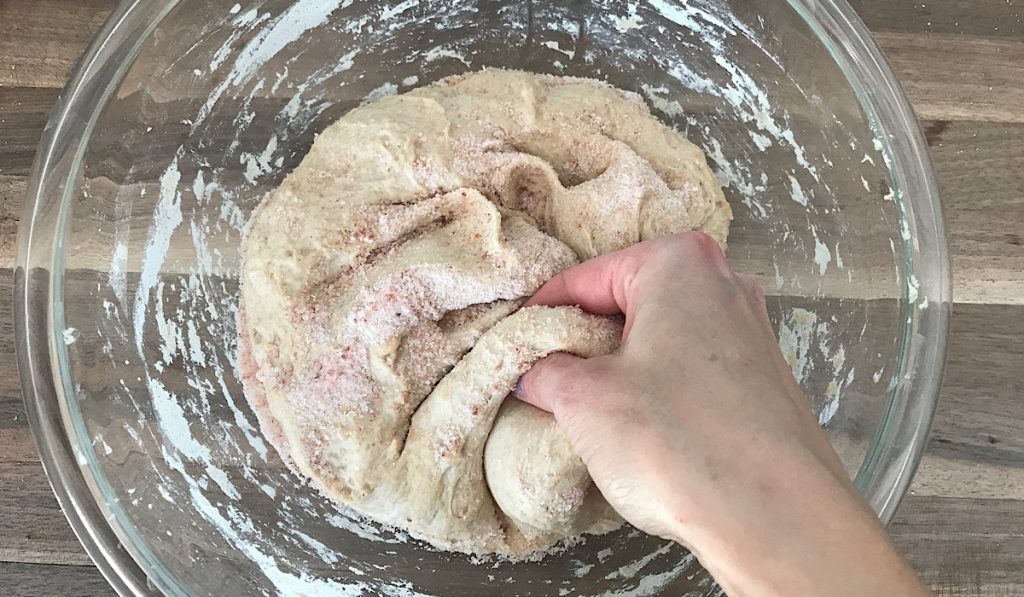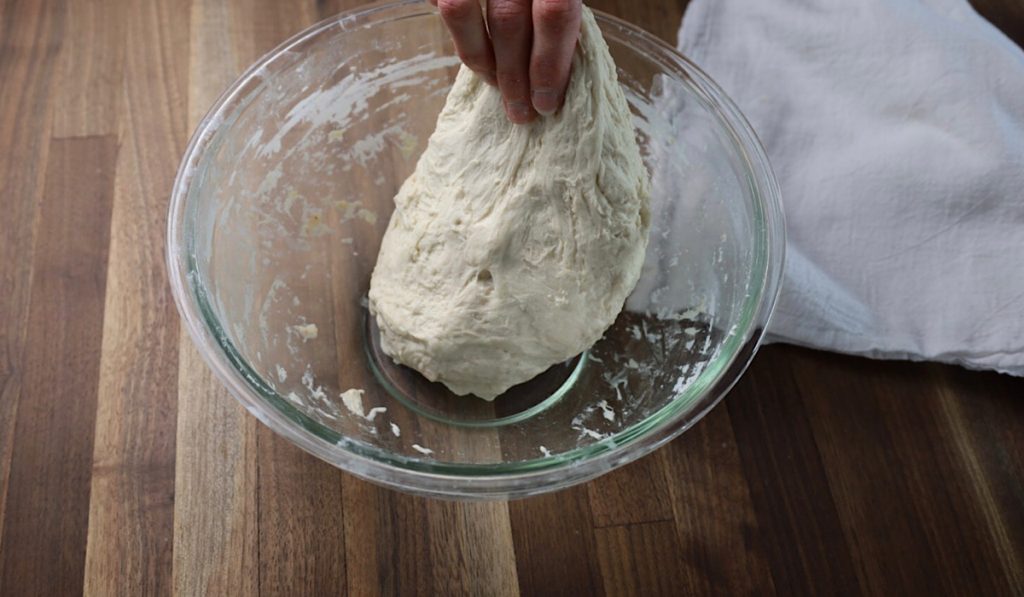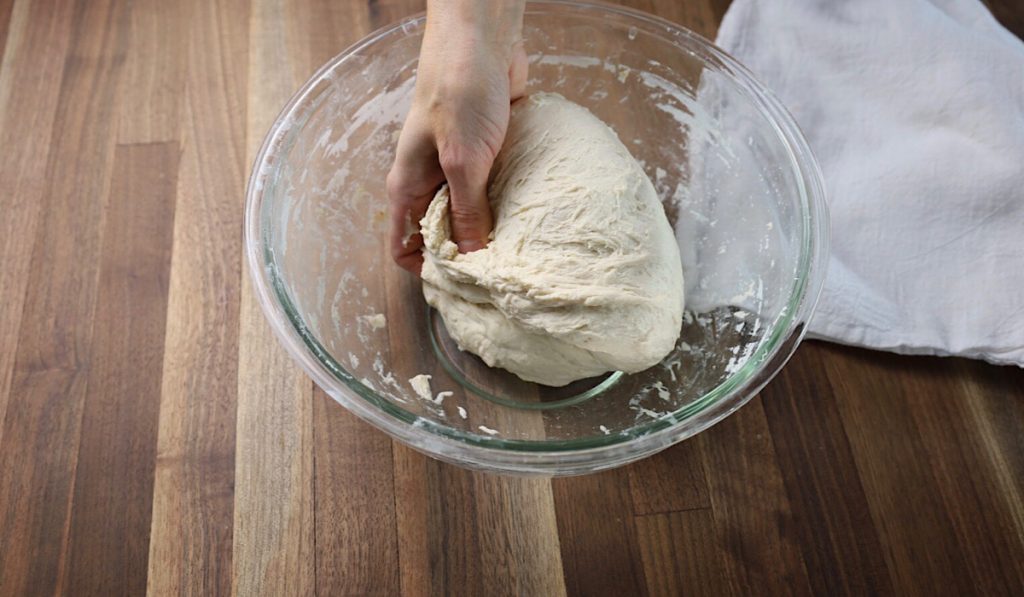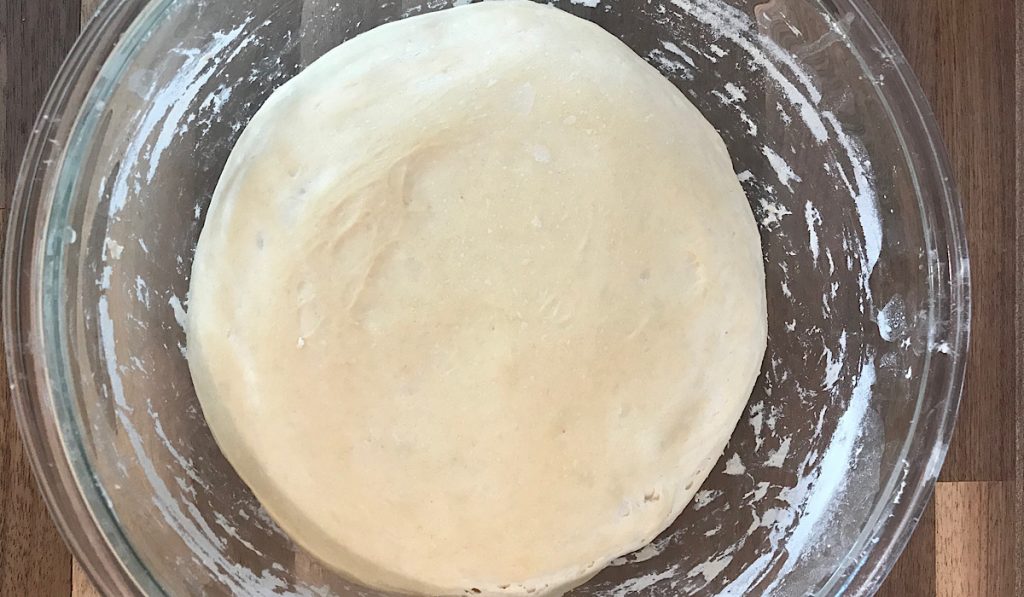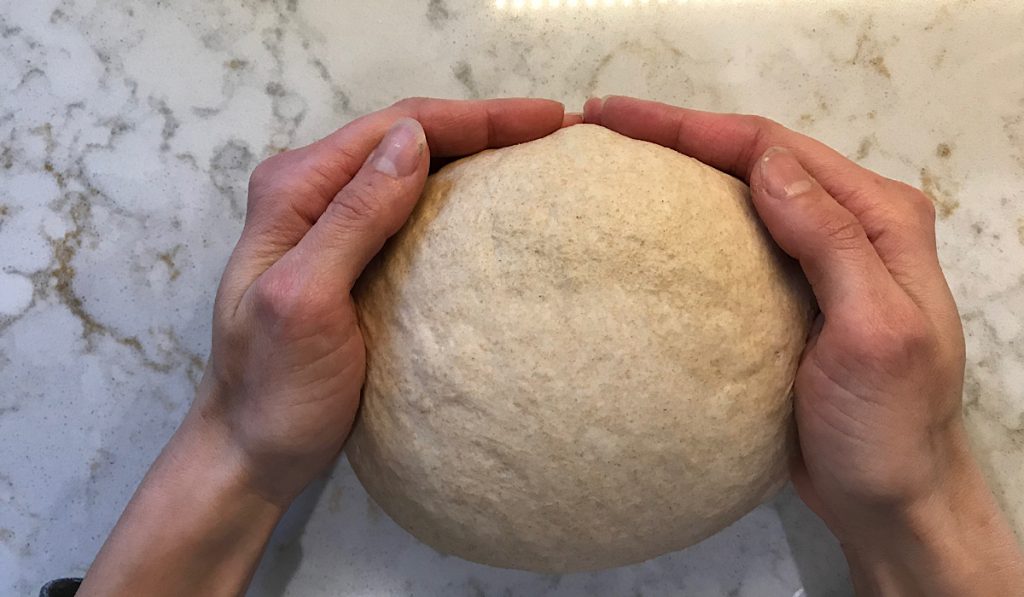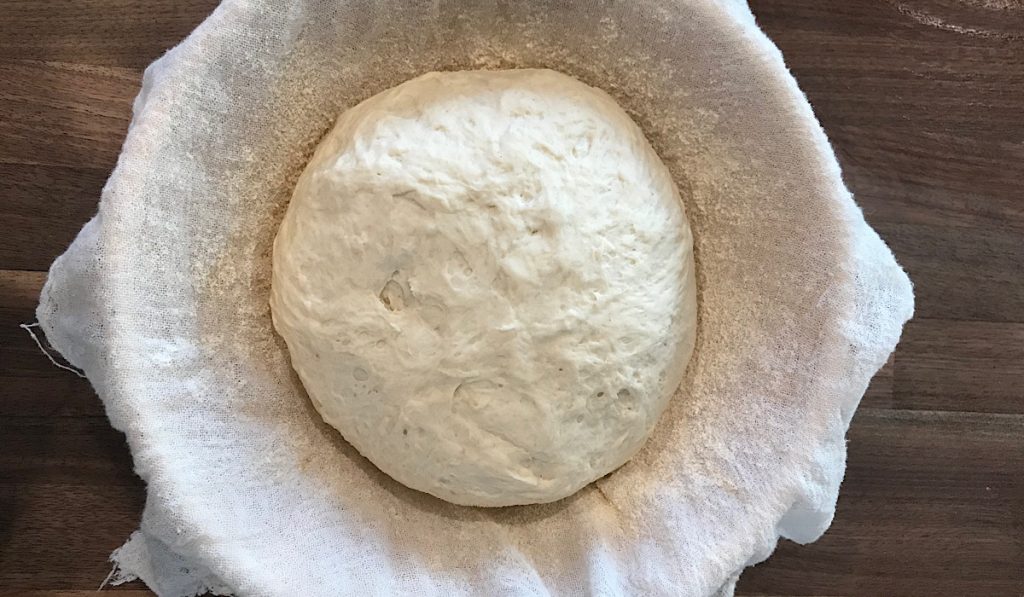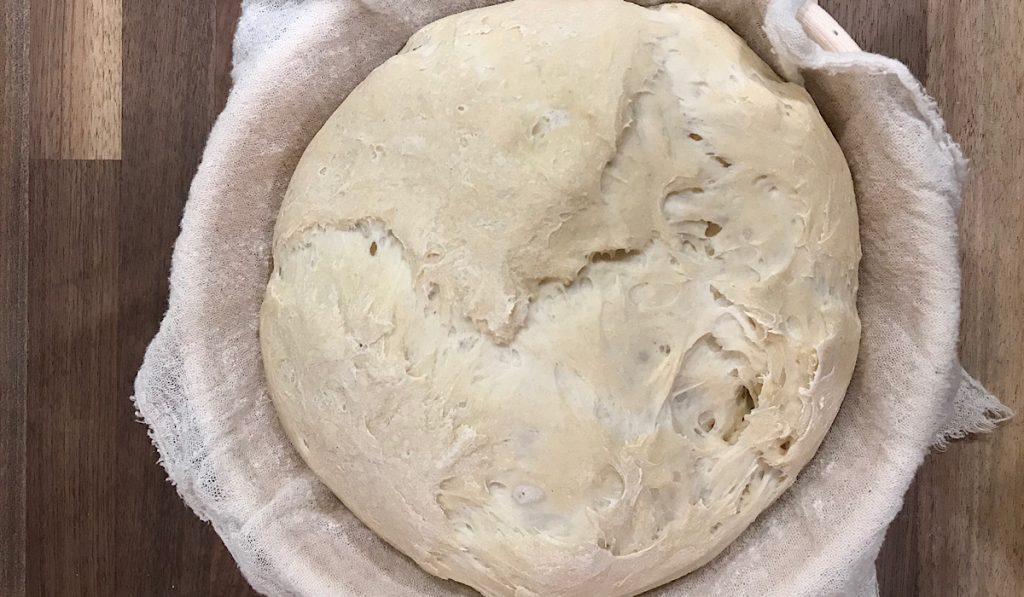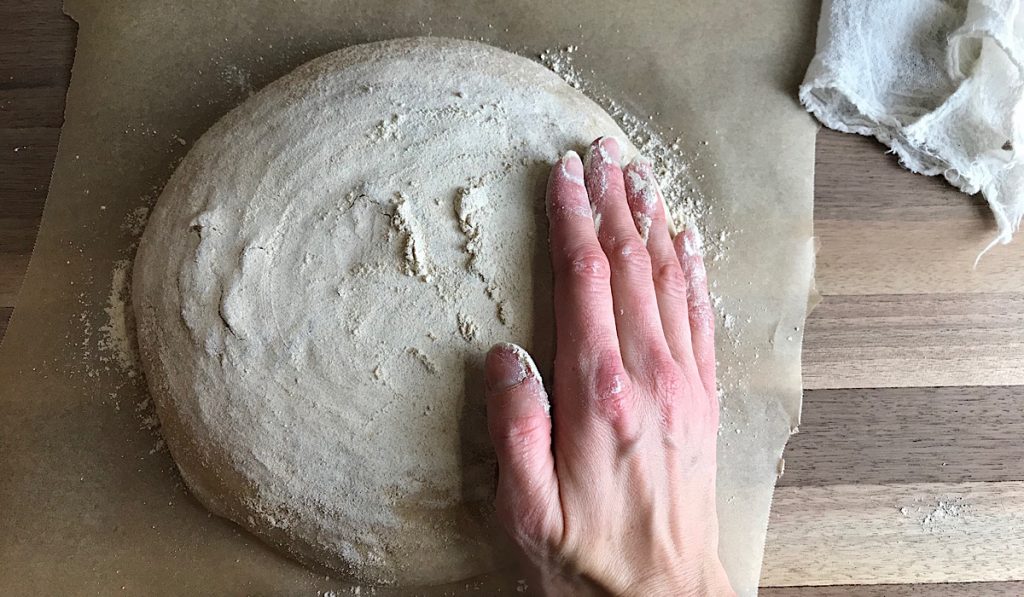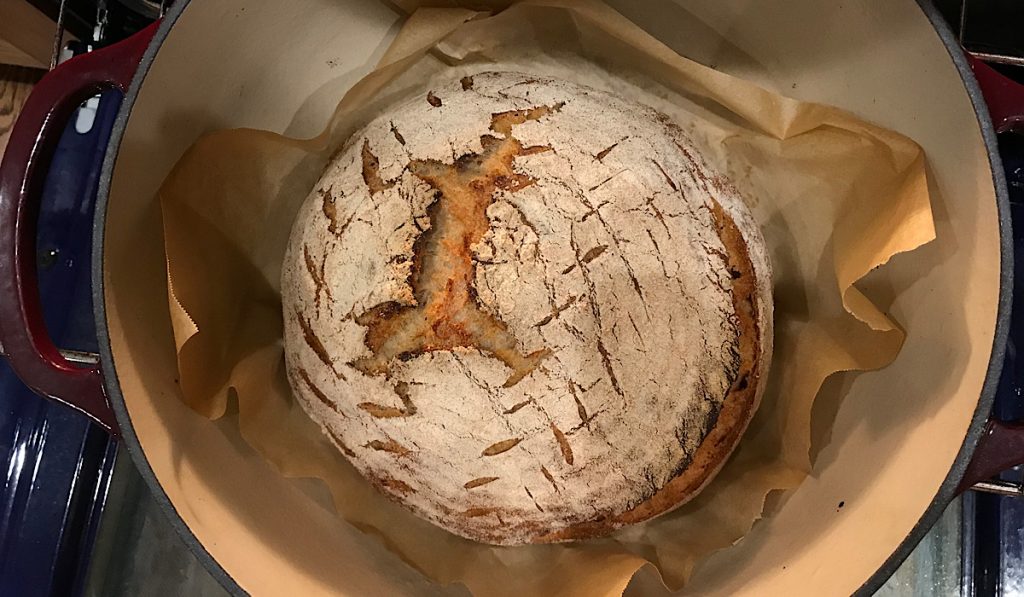 Let's get to baking! Is this your first time baking with your starter? Or are you experienced and looking to try new loaves of bread? I would love to hear if you made this simple artisan sourdough bread and how you enjoyed it!
Struggling to make sourdough rise in the winter?
Try this Seedling Heat Mat. It's a 20×10 mat that lays flat on your counter. It plugs into the wall and gives off a very small amount of heat (like really small).
Simply place your dough on this mat to help your dough rise during the cool winter months.
I get asked often how to rise dough in a cold house during the winter. My suggestions are to place your dough in the oven with the light on, or slightly warm your oven a few seconds and then place dough into a warm oven, or add dough on top of your refrigerator where it's warm OR this using this Seedling Heat Mat. I have had great success with it, and would recommend it to anyone to use when the house gets cold.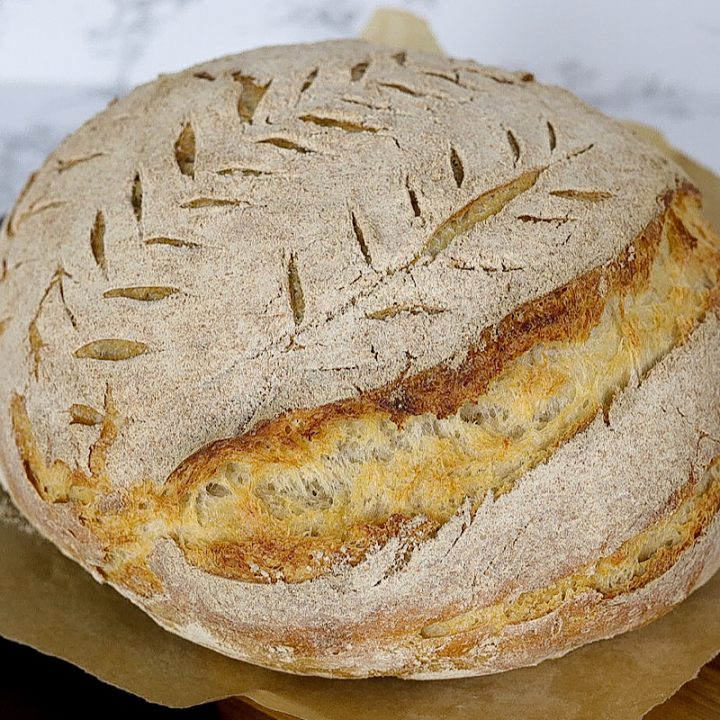 Simple Artisan Sourdough Bread
Ingredients
175 grams active sourdough starter (that passes the float test)
300 grams filtered water (room temperature)
450 grams unbleached flour (not enriched, I recommend organic)
12 grams unrefined salt (I love pink Himalayan salt)
Instructions
1. Add 175 grams of active starter to a large glass bowl. Pour 300 grams filtered water on top of starter. Using your fingers, whisk starter into water until it's evenly distributed. It will become a cloudy water.
2. Add 450 grams unbleached flour to the water/starter mixture. Using your hands, mix all of the ingredients together until just incorporated.
3. Cover and rest in warm area for 1 hour.
4. Sprinkle 12 grams of unrefined salt over the dough. With your fingers, pinch in the salt. No need to mix here, just pinch it in. Rest for 30 minutes.
5. First stretch and fold: Take your hand and reach under the side of the dough. Gently pull dough upwards and fold over itself. Turn the bowl 1/4 turn and stretch the dough again and fold. Repeat 2 more folds for a total of 4 stretch and folds. Cover and rest dough for 30 minutes. I recommend setting a timer to alert you.
6. Second stretch and fold: same instructions as step 5. Complete 4 folds. Cover and rest for 30 minutes. Don't forget to reset the timer.
7. Third stretch and fold. Complete 4 folds. Cover and rest for 30 minutes. The gluten is starting to develop and you should start noticing that the dough is easier to work with.
8. Fourth and final stretch and fold. Complete 4 folds. Cover and rest in the bowl for 3 hours.
9. Remove dough and shape into a ball. Place on counter seam side down. Gently pull dough towards you on the counter to pinch the seam underneath and create surface tension on the top. Turn and repeat until your ball is tight and round. A tight ball will rise better.
10. Line a bowl or banneton with a tea towel or cheese cloth and sprinkle slightly with four. Scoop up your ball and place in the bowl seam side UP. Cover and proof for 2 hours to let it rise.
11. Option 1: Preheat Cast Iron Dutch Oven for 1 hour at 450 degrees. After proofing, gently flip bread over onto parchment paper. Dust the top with flour. Score loaf with a razor. Pick up corners of parchment paper and transfer to dutch oven. Bake for 30 minutes at 450 degrees F. Remove lid and cook another 5-10 minutes depending on how well done you prefer your crust.
12. Option 2: After proofing, cover your dough and place in refrigerator for 12-18 hours. This slow fermentation will break down the flour further for those who may be more gluten sensitive. Remove dough from fridge 1 hour before baking. During that hour, allow your Cast Iron Dutch oven to preheat in your oven at 450 degrees. Place parchment paper over your dough and gently flip it over onto the paper. Dust the top with flour. Score loaf with a razor. Transfer to dutch oven in the parchment paper and bake for 30 minutes. Remove lid and cook another 5-10 minutes depending on how well done you prefer your crust.
13. Cool on wire rack and enjoy.
Notes
To keep the crust crispy after you cut into it, simply place loaf cut side down on a plate and leave the rest open to the air. This will keep the inside fresh and soft and keep the outside nice and crispy.
*Always use a Cast Iron Dutch Oven.
In the words of my 8 year old, "This is the best bread I have ever eaten!" Let me know in the comments if you feel the same.
PIN FOR LATER: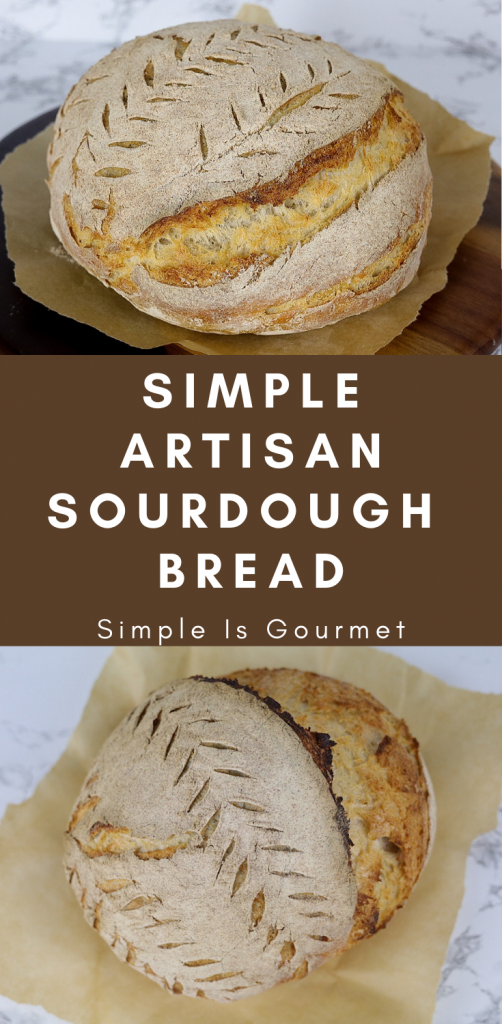 Links:
The following are affiliate links to my amazon shop.
Kitchen Scale (Less expensive option that I still use and love)
Kitchen Scale (My newest scale)