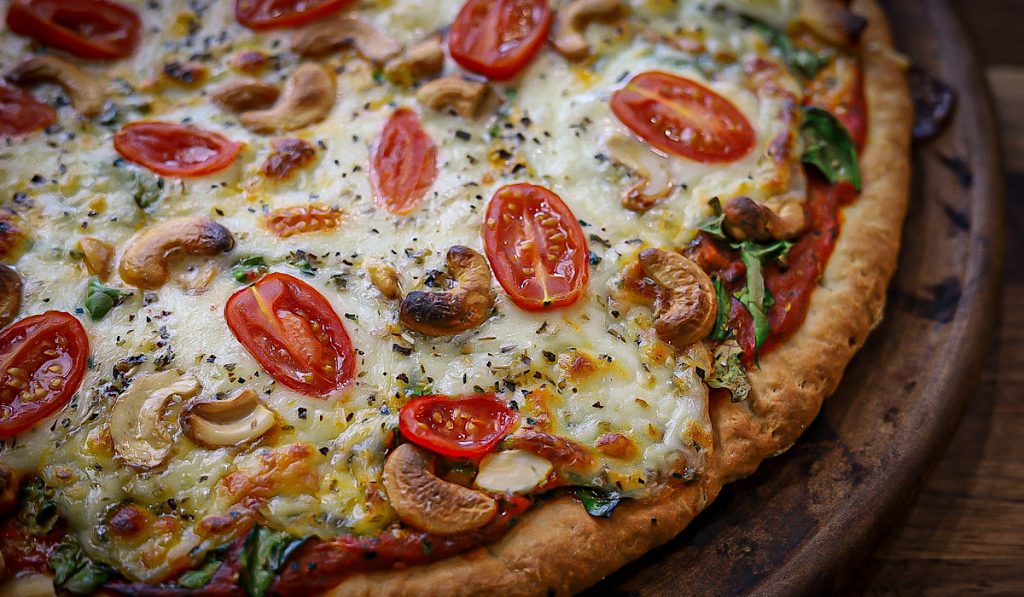 This Sourdough Pizza Crust just may be the easiest sourdough recipe you will ever make. It is crispy, delicious and the perfect vehicle for all of your favorite pizza toppings. You will find yourself making this pizza crust time and time again!
This is actually the first sourdough recipe that I made up! When I started out with sourdough I could not find a pizza recipe that did not use yeast. All I wanted was a traditionally fermented recipe but it wasn't available. So I decided to start experimenting in order to come up with my own recipes. My goal was to reinvent all of my favorite homemade flour recipes and convert them into sourdough. Being from Chicago, it was only natural that my first attempt was with pizza.
I've shared this recipe with family and friends who recently started out on their own sourdough journeys and they love how easy and delicious this pizza crust is. It really is a crowd favorite and I'm excited to share it with you now.
Before we get started you will need a sourdough starter. If you do not yet have one of your own, here is a Day by Day Guide to help you make your own Sourdough Starter. If you'd like to learn more about the benefits of sourdough, check out my "Why Sourdough?"
Ingredients to make Sourdough Pizza Crust
Active Sourdough Starter
Unbleached Flour
Filtered Water
Honey
Melted Butter or Coconut Oil
Cornmeal
How to Make Sourdough Pizza Crust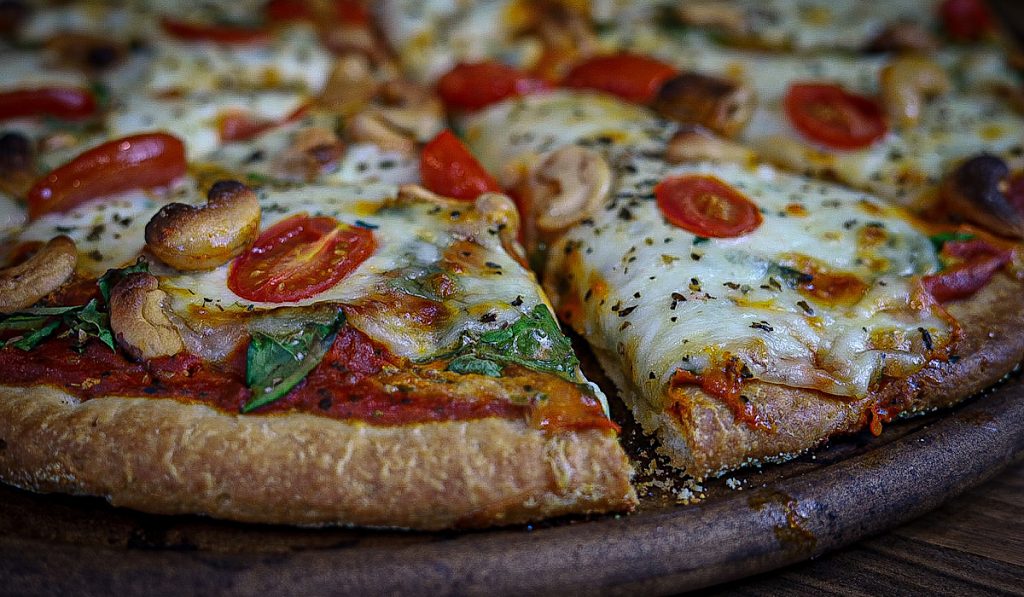 Be sure you have an active sourdough starter, this is key for a successful proof. Combine the starter, flour, butter (or coconut oil), water, honey and salt. Mix in a stand mixer on high for 5 minutes. You may also mix by hand, but this may take 10-15 minutes.
Be sure the ingredients are well combined and the dough appears to be silky with an elastic texture. It will be slightly sticky to the touch. Place in a greased bowl and cover it with a towel or plastic wrap for 8-12 hours. It should double in size.
I recommend placing your crust in a warm oven to proof. You can either leave the warming light on or you can heat up your oven for a few seconds and then add the dough. *TIP* Place some sort of marker on your oven as a reminder that your dough is inside. I've accidentally turned on my oven and ruined my recipe.
After your dough has fermented and doubled in size, preheat your oven to 450 degrees with your pizza stone inside for at least 30 minutes. This will give you a crispy crust. If you don't have a pizza stone, it's ok, you may use a cookie sheet.
Slightly oil your surface and then remove the dough from the greased bowl. The oil will prevent the dough from sticking to the counter when you roll it out.
Roll out your dough to fit the size of your baking stone or cookie sheet. Add a sprinkle of cornmeal to your stone or cookie sheet to prevent the dough from sticking.
Carefully fold your dough in half to make it easier to pick up. Place it onto your hot baking stone. Unfold the dough and press it out to the edges of your cookie sheet or stone. Slightly fold over the edges of your dough and press it down to create your outside crust.
First, bake the crust for 10 minutes until it begins to puff and brown. Remove it and add your sauce and toppings. Place it back in the oven and cook it for another 10 minutes until your cheese is melted. Then broil it for a minute or two to give that cheese a little extra sizzle. Broiling is optional, but worth it!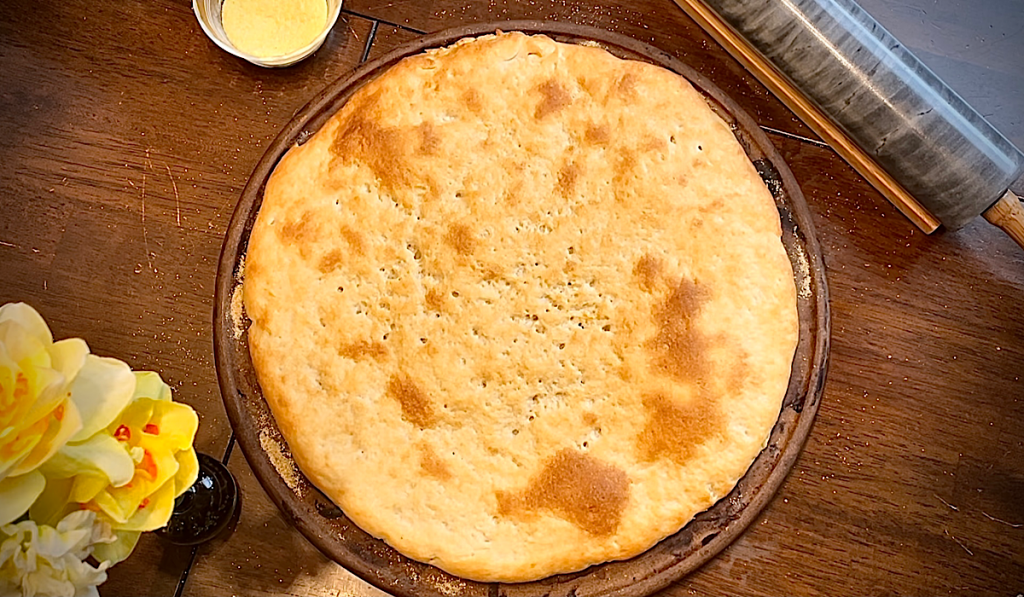 What kind of Pizza do you have a taste for?
Aside from the classic pizza choices: cheese, pepperoni and sausage, here are a few other options to kick your pizza game up a notch.
Classic Margarita Pizza: Your favorite pizza sauce, topped with fresh mozzarella cheese and fresh basil leaves. Always add a sprinkle of unrefined salt.
I like to take Margarita pizza to a healthier level and cover the sauce with spinach leaves before adding the fresh mozzarella cheese. Then I add basil, unrefined salt and cashews. (Yup, if you have never tried cashews on pizza, you HAVE to give it a try!)
Pesto Pizza: Spread your favorite pesto over the crust. Pepperoni. Roasted red peppers. Fresh mozzarella. Feta cheese. Sprinkle of oregano and top with cashews. Sprinkle of unrefined salt.
BBQ Chicken: Spread your favorite BBQ sauce over the crust. Add roasted shredded chicken. Sautéed red onion. Fresh mozzarella cheese. Sprinkle of unrefined salt.
Artichoke Ricotta: Spread Ricotta over the crust as your sauce. Add artichokes hearts. Bacon. Cashews. Basil. Sprinkle of unrefined salt.
Pin for Later: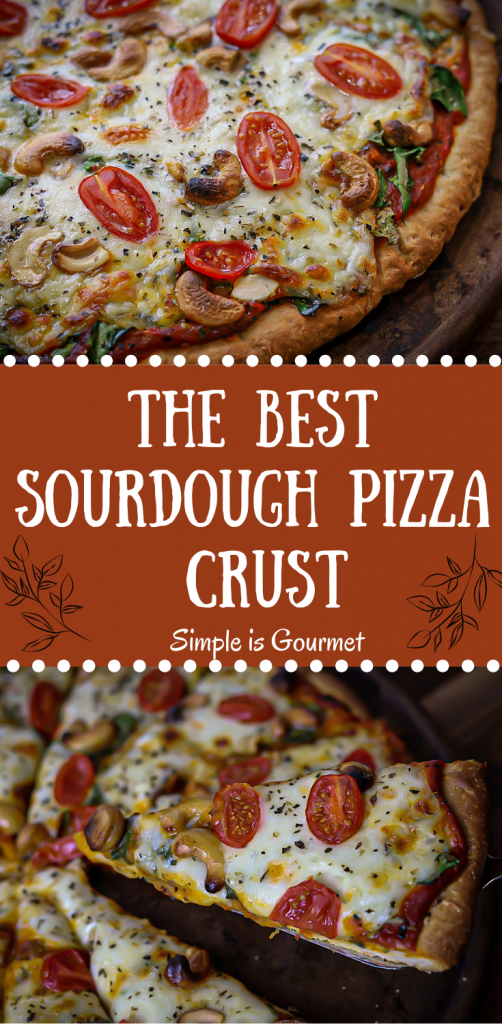 The Best Sourdough Pizza Crust
Ingredients
200 grams Active Sourdough Starter
125 grams filtered water
300 grams Flour
1/4 cup melted butter (or coconut oil)
1 T honey
1 tsp unrefined salt
Cornmeal (for dusting over pizza stone)
Instructions
Mix all ingredients together in a stand mixer for 5 minutes. The dough will appear elastic and silky in texture. It will be just sticky to the touch, but shouldn't stick to your fingers. Add dough to greased bowl, cover and ferment for 8-12 hours. (I often add my dough to the oven with the light on)
After dough has fermented and doubled in size, preheat oven to 450 degrees F. If cooking on pizza stone allow stone to heat in oven for 30 minutes. (this helps the dough form a crispy crust)
Drizzle a small amount of oil on your counter. Roll dough out to the size stone or cookie sheet your baking on.
Sprinkle your baking stone with cornmeal so dough doesn't stick. To easily transfer dough, fold in half and place onto preheated stone. Quickly unfold over baking stone. Fold over the edges if you prefer a crust.
Bake dough at 450 degrees F for 10 minutes until golden brown.
Remove and add your toppings. Bake another 10 minutes.
Optional: Broil for 2-3 minutes until cheese is bubbly and slightly browned. But watch it closely, because it broils quickly!
In the comments below tell me about your favorite pizza combination!