Upgrade your taco nights with these Street Corn Tacos. The seasoned roasted corn paired with beef or chicken and topped with a spicy mayo is out of this world good!
I made these Street Corn Tacos with Spicy Mayo for dinner one night and my husband told me that I need to open my own Taco Shop. HA! I took that compliment and ran because he's from Southern California and knows his tacos!
I'm not looking to start any pop up food stands anytime soon, but I am very excited to share this recipe with you.
The Details
This recipe goes all out. First pick your meat. Your choice of ground beef, chicken, pork whatever your taste buds desire for that day.
Just be sure to season your meat with my Homemade Taco Seasoning.
There is nothing like fresh tortillas. Nothing! And wouldn't you know I have my own Homemade Sourdough Tortillas recipe that you have to try!
I suggest dividing the dough into 20 or 24 tortillas for that small street corn tortilla style.
Learn more about Sourdough benefits here.
Then there is the deliciously seasoned roasted corn. This brings your taco to a whole new level. The taco flavors paired with the roasted corn with a hint of lime is guaranteed a party in your mouth!
And lastly the show stopper: Spicy Mayo. This delicious dressing binds everything together and the topping you do not want to omit!
And that's it. Simple. I try to divide my meal prep up during the day so I'm not trying to get everything made during that lovely witching hour.
For example I will make my Sourdough Tortillas either the day before, or mid afternoon, depending on when I start the ferment.
The spicy mayo is also easy to make ahead of time, and just store in the fridge so it's ready to go come dinner. Or you can even make the spicy mayo a few days ahead of time. It's good for a solid week in the fridge.
That leaves me with just the Street Corn and Taco Meat to make at dinner time. But if you're the type that likes to make it all at once so the kitchen gets dirty one time, by all means go for it.
Ingredients for Street Corn Tacos with Spicy Mayo:
6 inch Street Taco Tortillas (give my Simple Sourdough Tortillas a try and divide the dough into 20 for street taco size)
Spicy Mayo (recipe below)
1 lb Ground Beef, Chicken or Pork
4-5 ears of fresh corn OR 1 can of corn
Sweet or Yellow Onion
Smoked Paprika
Cumin
Cilantro
Lime
Pin for Later: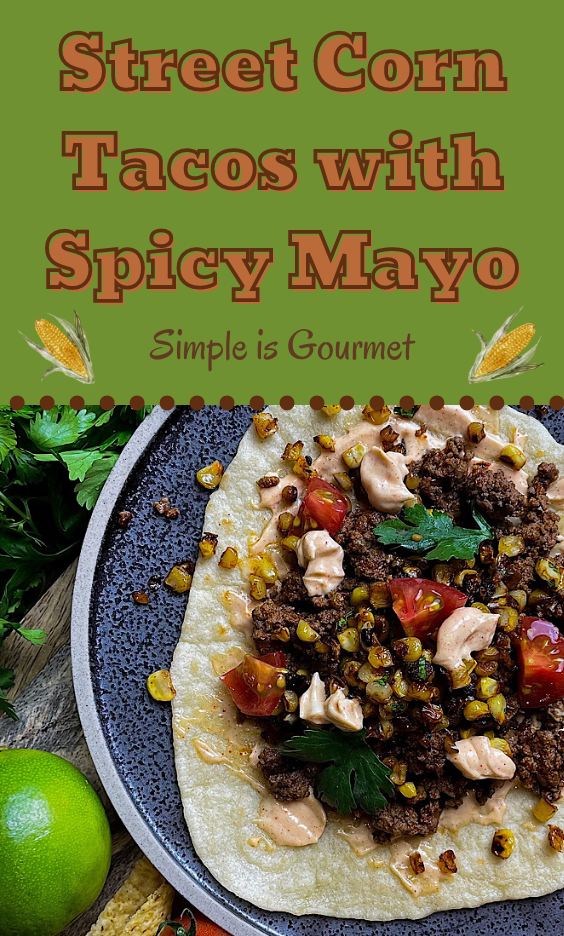 Let's Make Some Street Corn Tacos with Spicy Mayo!
Street Corn Tacos With Spicy Mayo
Upgrade your taco nights with these Street Corn Tacos. The seasoned roasted corn paired with beef or chicken and topped with a spicy mayo is out of this world good!
Ingredients
Taco Meat
1 lb. Ground Beef, Chicken or Pork
3 Tbsp Taco Seasoning
2/3 Cup Water
Spicy Mayo
1 Cup Mayonnaise
1 Tbsp Sriracha Sauce
1 Tbsp Lime Juice
1 tsp Ancho Chili Powder (or regular Chili Powder)
Salt to taste
1 Tbsp Water to thin (optional)
Roasted Seasoned Corn
2 Tbsp Avocado oil
4-5 Ears of Fresh Corn OR 2 cans of corn (drained!)
1 Yellow or Sweet Onion
1 tsp Smoked Paprika
1 tsp Cumin
1 tsp Unrefined Salt (or to taste)
1/4 cup chopped Cilantro 
Squeeze of Lime (optional)
Street Taco Tortillas
Store bought or try my Simple Sourdough Tortillas if you prefer to make your own
Instructions
Brown ground meat. Add taco seasoning and water. Simmer until water is reduced.
While meat is cooking dice the onion and remove fresh corn off cobs. Add avocado oil to medium-hot skillet and add the chopped onion. Sautè until onion is translucent about 5 minutes. Add corn (fresh or canned but drain can first!). Allow corn to brown a few minutes before mixing. Mix in smoked paprika, cumin and salt. Every few minutes mix corn around to roast the kernals. (Careful because the corn may pop at you!) After about 13-15 minutes the corn will be roasted. Careful not to over cook or you may have dried out corn. Remove from heat and add chopped cilantro. Squeeze fresh lime juice overtop. Optional, but so delicious!
In medium bowl mix together mayonnaise, sriracha, lime juice, chili powder and salt. Cover and refrigerate until you eat. Optional: Add 1 Tbsp water to make the spicy mayo more pourable.
Assemble: Turn gas burners on stove top and add tortillas on top to warm and slightly brown. Remove and add taco meat, roasted corn, spicy mayo and garnish with cilantro, cherry tomatoes and a squeeze of lime.
Notes
Make the spicy mayo ahead of time, it's good for a week in the fridge.
Links: