These Sourdough Donuts are deep fried in coconut oil, crisp on the outside, soft, fluffy and airy on the inside. They are naturally fermented overnight and can be quickly baked first thing in the morning. These are mouth watering good and just may be your every Saturday morning treat.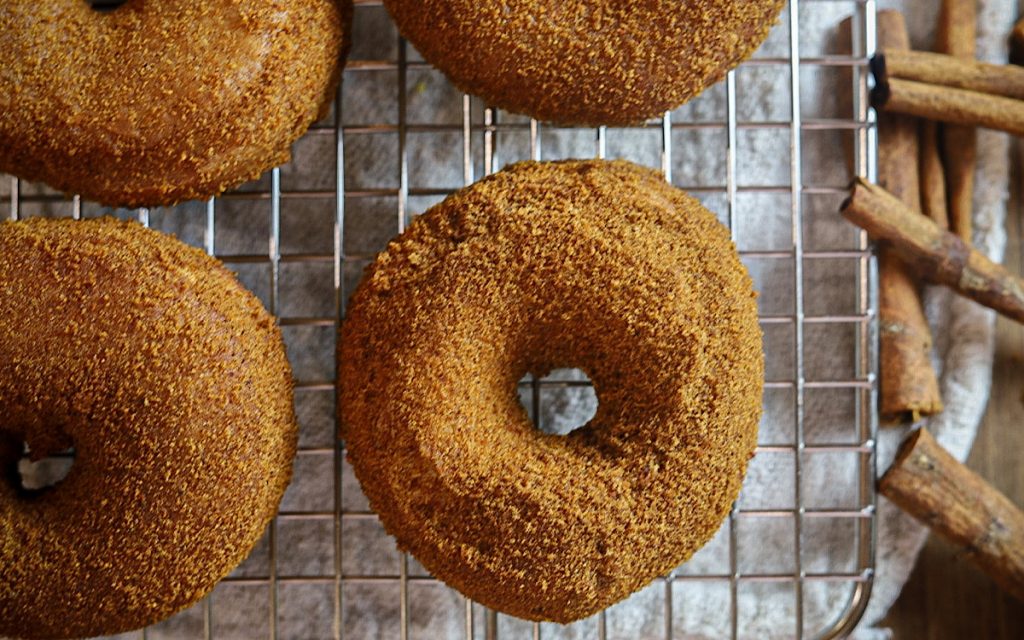 What is your favorite kind of donut? Do you prefer frosting? Glazed? Cinnamon sugar? Sprinkles? Fruit? Jelly? Powdered? I mean, the options really can go on and on so before I keep going I'll just assume you're like me and prefer ALL OF THE ABOVE!
I am a donut connoisseur. They are my weakness and most favorite indulgence. Many Saturday mornings for several years my husband loved to treat our family to fresh bakery donuts. Thanks to this tradition, my children now take after their Mama and love donuts too.
As you know that tradition can get a little expensive. And when I started to pay attention to the mystery ingredients, preservatives and oil added to the bakery donuts, I got a little leery feeding my kids them every week. (of course in moderation and every once in a while I'm okay with, but not weekly!)
So when I started my sourdough journey I was determined to make a healthier alternative to our Saturday morning tradition.
Let me remind you, I am a donut snob. So in order for a donut to pass in my book it's got to be good.
And let me tell you, these are GOOD!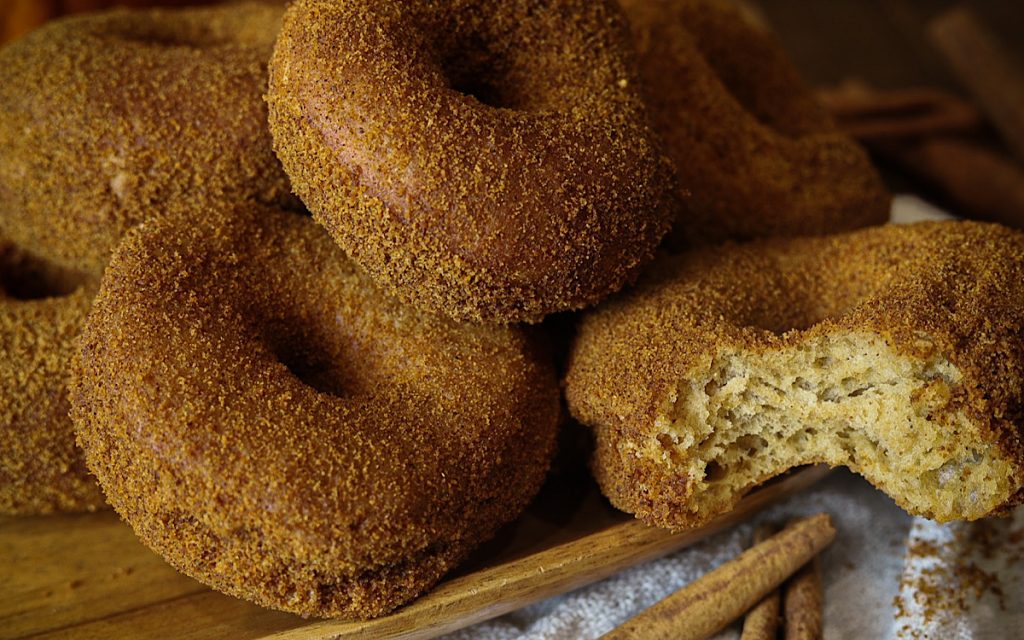 Why make Sourdough Donuts?
First of all, they're delicious– I already covered that.
Second they are likely the healthiest donut you can eat (is that even a thing). Let me clarify.
The donuts are naturally fermented. This means that through the sourdough process the wheat grains get broken down, releasing more nutrients and the grains become easier for our bodies to digest. For more information visit my Why Sourdough?
Third I keep them free of refined sugars. I do my best to sweeten my baked goods with, God made unrefined sugars. And these are so delicious made with coconut sugar. But you can use any sugar you like to make these. Why Real Sugar?
Last, they are deep fried in coconut oil. (No, they do not give the donuts a coconut flavor) Chain donut shops deep fry their donuts in rancid cheap seed oils which can sit so heavy in my stomach. The coconut oil doesn't do that. The coconut oil also gives the donuts a crispy outer layer and it is so satisfying! For more information on why I choose to use coconut oil check out my Why Fats?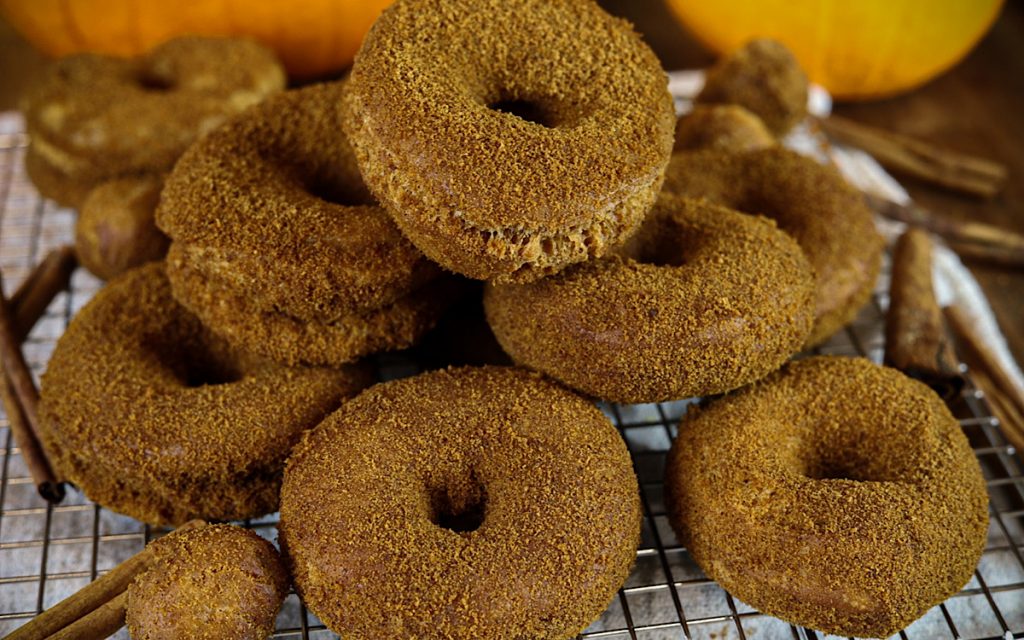 Ingredients to make Sourdough Donuts
Active Sourdough Starter
Flour (I always recommend organic)
Milk
Egg
Sugar (I love using coconut sugar)
Butter
Salt
Cinnamon
Coconut Oil
Helpful Kitchen tools to make Sourdough Donuts
Tips for Success
When mixing dough, touch it with your finger after mixing. It should not stick too much to your finger. If it does, just add another tablespoon of flour and mix again. Careful not to over do the flour resulting in dense donuts.
Dough should at least double in size during ferment. I give a time of 8-12 hours because it will likely take at least 8 hours to double but it may take longer or shorter depending on the temperature of your kitchen.
Use a Large Wide Glass bowl to ferment dough in. This is because in the morning you want to be able to easily invert your dough and have it fall out of the bowl.
Do not over work the dough! This is why I suggest a large wide bowl so you don't have to work the dough much when rolling it out. Your dough worked hard during the ferment to grow and become airy. You want to save that hard work and minimally handle your dough resulting in fluffy donuts.
Make sure the oil temperature comes to 350 degrees F and stays steady at that temp. Remember when you add the dough to the oil, the temperature will drop. So be aware of that as you continue to make your batches of donuts that you may need to allow the oil temp to come back up.
After donuts are golden brown, immediately add cinnamon sugar to coat donuts. You can either place them into a bowl and pour cinnamon sugar over them using a spoon. Or the quicker approach, place cinnamon sugar into a plastic bag and shake each donut to fully coat.
Eat warm–that is a must!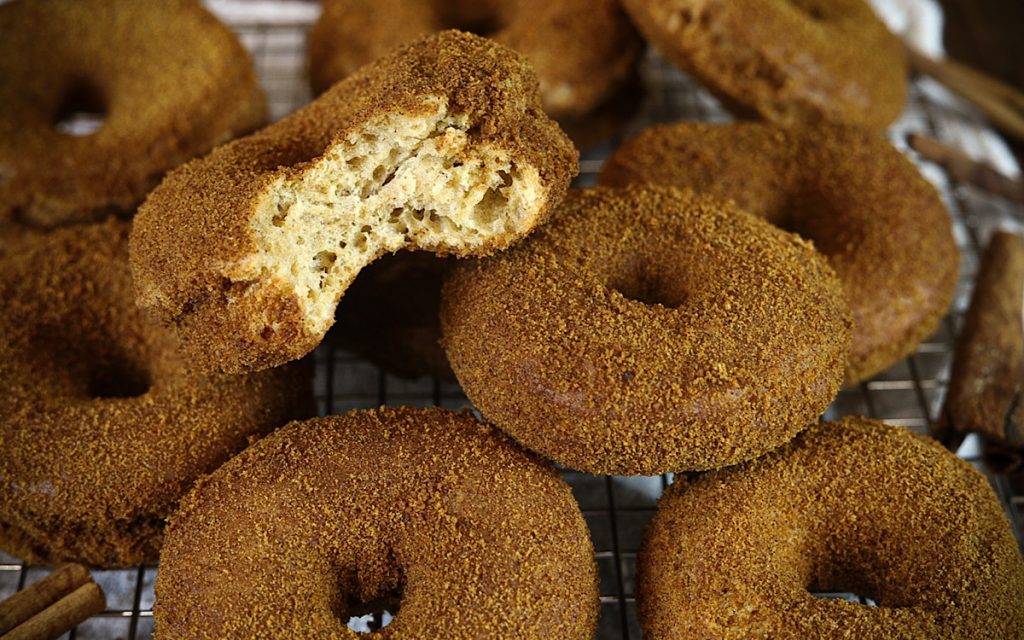 Apple Cider Donut Variation:
Follow the recipe exactly with these minor additions:
Add apple cider in place of the milk during the ferment. Also add 1 tsp cinnamon, 1/2 tsp cardamom, 1/2 tsp nutmeg and 1/4 tsp clove to the dough before ferment.
Need more Breakfast Inspiration?
Try my Sourdough Pancakes or Waffles.
Pin for Later: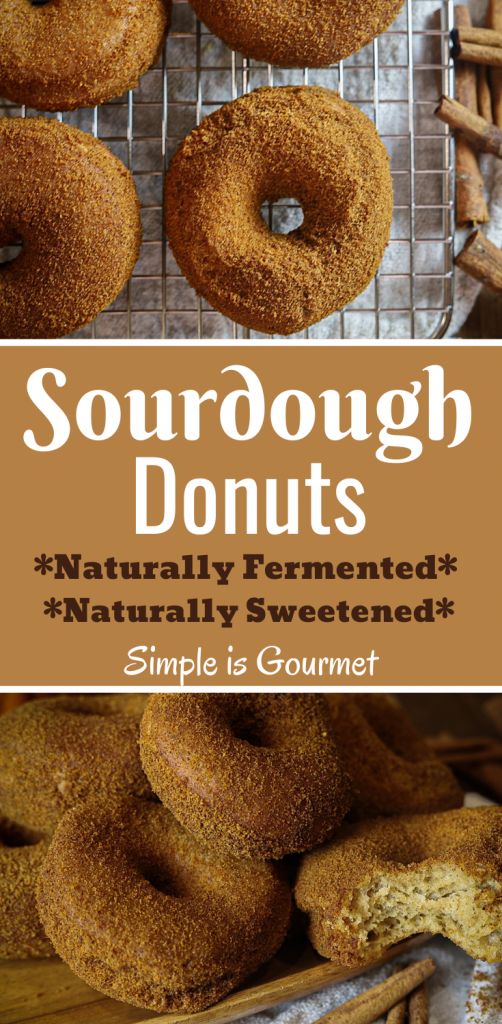 Let's make some Sourdough Donuts!
Sourdough Donuts
These Sourdough Donuts are deep fried in coconut oil, crisp on the outside, soft, fluffy and airy on the inside. They're naturally fermented overnight and can be quickly baked first thing in the morning. These are mouth watering good and just may be your every Saturday morning treat.
Ingredients
Ferment Overnight
200 g Active Sourdough Starter
350 g Flour
120 g Milk
1 Egg
1/2 cup Sugar 
1/4 cup Melted Butter
1/2 tsp Salt
2 tsp Cinnamon
1 quart Coconut Oil
Cinnamon Sugar
1/2 cup Sugar 
1 Tbsp Cinnamon
Instructions
Add to stand mixer: sourdough starter, flour, milk, egg, sugar, melted butter, salt and cinnamon. Mix 4-5 minutes until dough pulls away from the sides. When you touch the dough it shouldn't stick too much to your finger, if so add 1 Tbsp more flour (just don't add too much more flour or donuts will be dense)
Place dough into a wide, large well greased bowl. This makes it easier to flip dough out of the bowl after ferment. Tip: rub a little oil to the top of dough to prevent it from drying out during the ferment. Cover your bowl with plastic wrap. Ferment in warm place for 8-12 hours. It should double in size.
After ferment add 1 quart of coconut oil to a medium size pot. (I love using my enamel coated 4 quart cast iron pot). Turn stove on low. Melt coconut oil and bring oil temperature to 350 degrees F. This will take about 20 minutes. I suggest using a kitchen thermometer to keep temperature consistent.
Carefully invert dough onto greased surface. Lightly roll dough into flat slab about 3/4 inch think. Careful not to over work the dough and try and keep it naturally airy from the ferment ensuring fluffy donuts. Overworking the dough will create dense donuts.
Using a 2 or 3 inch biscuit cutter, or the end of a cup, cut out circles. Gently lift each circle and poke a hole in the center carefully pulling dough out to create a center hole. Or if you prefer to make donut holes use an apple core to punch holes into the center of each dough circle.
Make cinnamon sugar by mixing together the sugar and cinnamon and place into a medium size bowl or plastic bag so you're ready to coat donuts immediately after they cook.
Gently place cut dough donuts on a greased surface. Using a thermometer check to see if your oil has reached 350 degrees F. You can also drop a small dough ball into the oil and if it bubbles and sizzles all around it's ready.
Carefully drop donuts into oil, as many can fit in your pan at once. Cook each donut for about 2-3 minutes on each side. Or flip over once golden brown. *Don't rush, remember this is cooking your donut and you don't want a doughy interior.
Once golden brown, remove donuts with slotted spoon to drain oil. Place onto a plate lined with paper towels to catch any remaining oil.
Immediately coat donuts in cinnamon sugar. You can do this by dunking donuts into a bowl of cinnamon/sugar. Or place cinnamon/sugar mix into a plastic bag and shake each donut to fully coat.
Continue to cook the remaining donuts and shaking them in cinnamon sugar.
Serve warm, and enjoy every last bite of each crispy sourdough donut.
Notes
*Don't throw away the leftover oil!* Cool it down and strain through paper towels or small screen strainer to remove leftover cooked pieces. Pour into a mason jar and store in fridge to use for next time.
Links:
Enameled Coated Cast Iron Dutch Oven