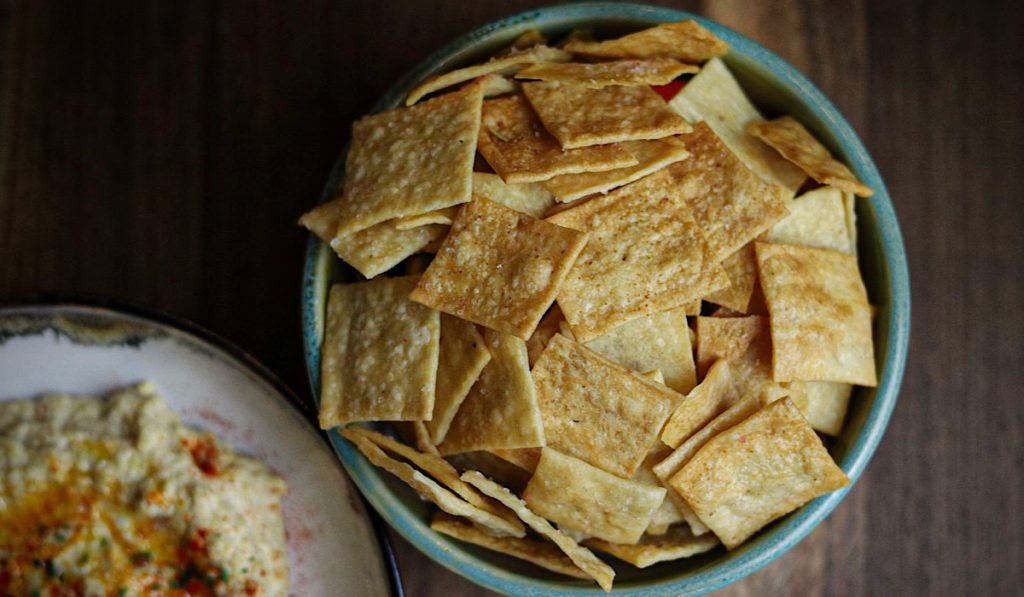 These crackers are ridiculously addicting! They're loaded with flavor, perfectly crunchy, and awesome for dipping. You can easily make them with ingredients you already have in your home. After trying these, I guarantee you'll never want to buy the processed store bought crackers again.
Why make Homemade Sourdough Crackers?
You control the ingredients! (I know, I say that all the time, but it's true!) Most store bought crackers are filled with nasty additives, refined processed oils, MSG and added coloring (eye roll to the added color!) You do not want to put that junk in you or your kid's bodies at every snack time–ditch and make these instead!
The flour is fermented giving your body the full nutritional benefit from the grains. So if you're gluten intolerant, you should be able to handle these crackers with ease. (learn more about the benefits under my Why Sourdough?)
You pick the flavors. We change our toppings each time. My kids will pick and season for me. Involve your kids—they'll love it! My 2 year old loves to salt the crackers. Some may be a little salt heavy, but if you're using good salt it's just added minerals. 😉
They are economical. One batch will make about 10oz of crackers. Think about how much you pay for a 10oz box of crackers at the store? These are pennies compared to that price!
THEY'RE DELICIOUS! I brought these as an appetizer to a family party, with some homemade dip. And they really were the life of the party! People were so surprised they were not store bought.
They're not as time consuming as you may think. They fit to your schedule and if you don't get around to baking the day of, they will just ferment a little longer and you can bake them next day. Truthfully, I prefer the taste of an extra long ferment. They almost have a parmesan cheese flavor, and they are SO delicious!
What You Need To Get Started.
Ingredients:
Active Starter (or active discard starter)
Unbleached Flour (I always recommend Organic)
Raw Honey
Olive oil (or Avocado Oil)
Baking Soda
Toppings
Topping Options:
Unrefined Salt
Rosemary/Salt
Garlic Powder/Salt
Everything But The Bagel
Parmesan Cheese
Italian Seasoning
Cinnamon and Coconut sugar (my kid's favorite!)
Kitchen Supplies:
Baking Stone or Cookie Sheet
Parchment Paper
Pizza Cutter
Toothpick or Fork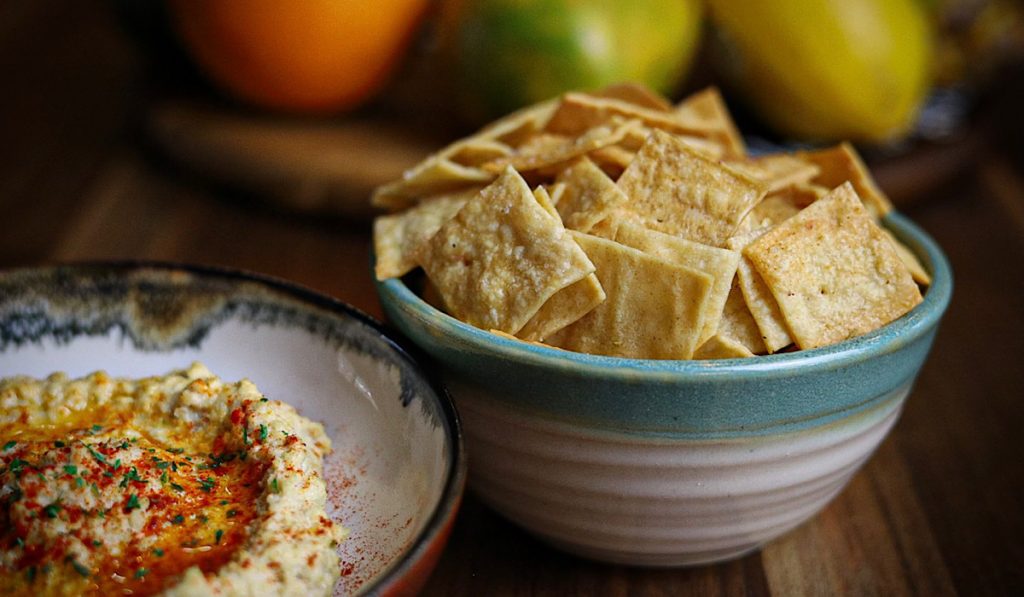 How to Make Sourdough Crackers?
Before we discuss the process, you're going to need a sourdough starter. Here is the link to my Day by Day Guide on how to create your own sourdough starter. And here you can read more about the benefits of sourdough.
The first step to creating these delicious morsels is fermenting them. Mix together active starter, flour, honey, oil, baking soda and salt. Form dough into ball and wrap tightly in plastic wrap. Rest on counter for at least 4 hours and up to 24 hours. The longer the dough sits and ferments, the more sourdough benefit you will gain. Plus the flavor enhances the longer it ferments and we love it.
When you're ready to bake, preheat oven to 350 degrees F. Allow your baking stone to preheat in the oven as well. If you don't have one that's ok you can just use a cookie sheet. Divide the dough into 4 equal balls. Roll out ball onto parchment paper as flat as you can get it. I took a ruler to mine and it was about 2 millimeters.
Lightly brush the flattened dough with olive or avocado oil. Sprinkle whatever toppings you like. A few of our favorite topping options are listed above.
Take your pizza cutter and cut the crackers into the sizes you prefer. I usually cut ours into 1 inch squares. Using a toothpick or the prongs of a fork, poke at least one hole into each cracker. This will prevent the crackers from baking into puffy little pillows. But if like that, then skip this step.
Add the parchment paper to the preheated stone, or lay on top of a cookie sheet. Bake at 350 degrees for 10-13 minutes or until crackers are golden brown.
Remove the crackers from parchment paper and cool right on your counter. You can re-use your parchment paper for the next batch.
Enjoy with your favorite dip, cheese or hummus. These make a perfect snack to pack in your kids lunch too!
Watch How To Make Sourdough Crackers:
Pin for Later: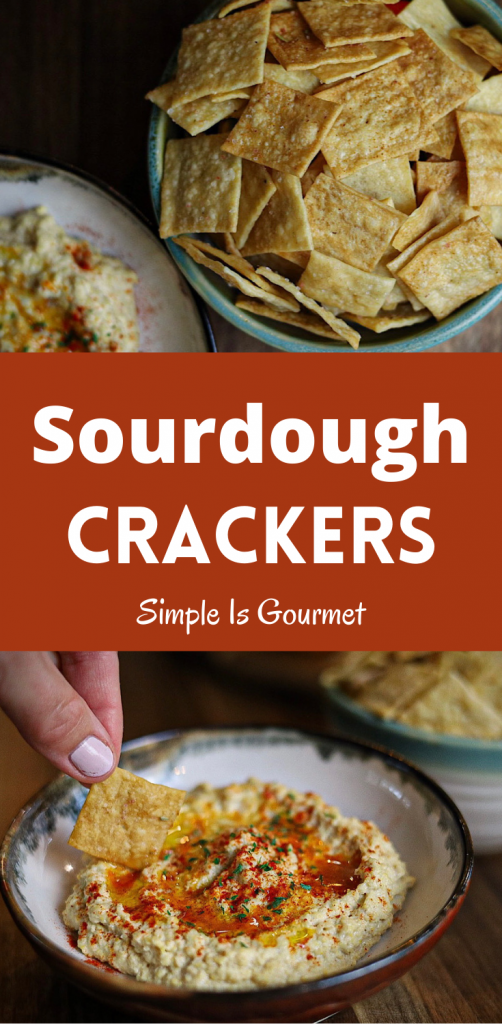 Let's make some Sourdough Crackers!
Sourdough Crackers
Ingredients
1 cup active starter (or active discard)
1 cup flour
1 Tbsp honey
1/4 cup olive oil (or avocado oil)
1/2 tsp baking soda
1/2 tsp salt
Topping Options
Olive or Avocado Oil 
Unrefined Salt
Rosemary/Salt
Garlic Powder/Salt
Everything But the Bagel
Parmesan Cheese
Italian Seasoning
Cinnamon and Coconut Sugar
Instructions
Mix flour, starter, honey, baking soda, oil and salt together by hand until ball forms. Wrap dough ball tightly in plastic wrap. Rest on counter to ferment for at least 4 hours and up to 24 hours. (The flavor enhances the longer it ferments)
Preheat oven to 350 degrees. (If you have a pizza stone, preheat with oven to bake crackers on) Divide dough into 4 even pieces. On parchment paper, roll out one dough ball as thin as you can, almost paper thin (about 2 millimeters thick). This will help the crackers bake evenly and quickly.
With pastry brush, lightly brush a thin layer of avocado oil over top the rolled out dough. Add your toppings. Cut crackers to desired shape and size. (mine are about 1 inch squares). With toothpick or fork, poke at least one hole in the center of each cracker. (This prevents them from puffing into little pillows, unless you like that 😉 then skip this step)
Bake crackers right on parchment paper. Place on preheated stone, or bake on a cookie sheet.
Bake at 350 for 10-13 minutes, until edges and tops are golden brown. (if you rolled thicker crackers, you may need to add another minute or two)
The crackers will crisp as they cool. Store in airtight container for up to 2 weeks.
Notes
Tip: Reuse parchment paper when rolling the next batch of crackers out for less waste 🙂
Shop:
The following are affiliate links to my Amazon Shop.
What is your favorite cracker topping? Let me know what you come up with in the comments below.