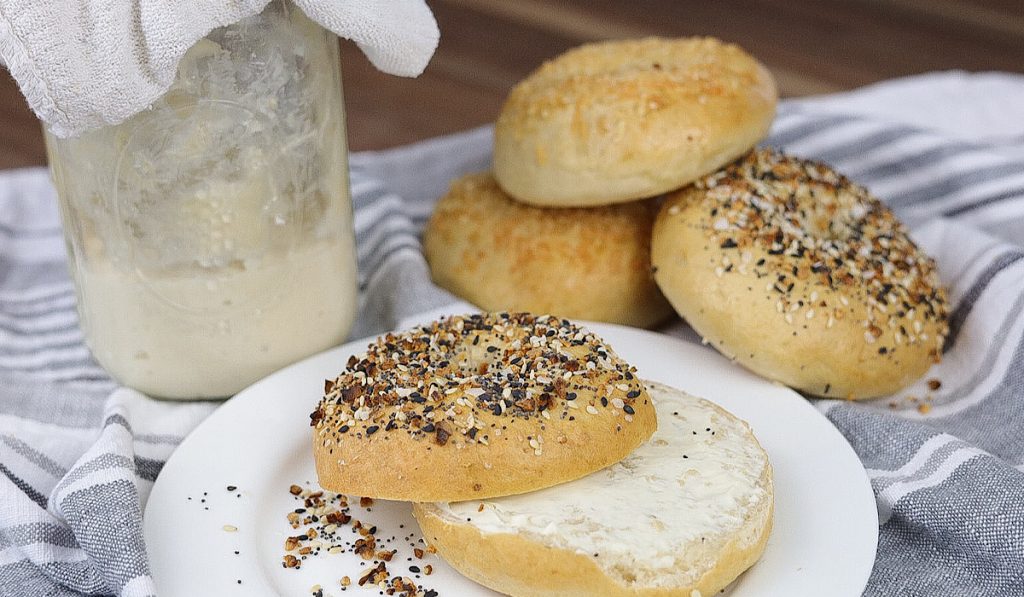 Move over Panera Bread. There is a new bagel in town and it's traditionally fermented, soft on the inside, seasoned with goodness, and everyone's favorite! This sourdough bagel recipe is so simple and delicious. It's traditionally fermented giving you and your family all the benefits sourdough as to offer. (Click here to learn more about WHY sourdough is so beneficial) I guarantee this will be your family's favorite bagels, and one that your children will request over and over.
How to Make the Sourdough Bagel dough
First things first, you will need to have a sourdough starter that has been fed at least 3 times. This will ensure a good rise and give you nice and plump bagels. (If you still need to create your own sourdough starter, click here for a simple day by day guide to help you get started)
The ingredients are simple. Active starter, water, honey, flour, salt and whatever toppings your little heart desires. Mix together all the ingredients, except the toppings of course, and place in a glass bowl. Cover bowl with plastic wrap to prevent dough from drying out. Ferment for 8-12 hours. The dough should double in size. I recommend placing in a warm area, or in the oven with the light on. You can also turn your oven on for a few minutes then turn it OFF to warm it slightly, and then place the dough in the warm oven to ferment.
If you Prefer Video:
How to Shape the Sourdough bagels
Remove your dough from the bowl. Divide into 8 even pieces. I will use a scale for more uniform bagels. This ensures no fighting from my children over which bagel is the "biggest".
Take each piece and pull the edges of the dough down and underneath itself. This will create surface tension and become a tight dough ball. Place dough seam side down and rest dough balls for 5 minutes.
To create the famous hold in the middle, take your thumb and middle finger an pinch into the center of the dough ball until your fingers touch. Gently pull dough apart to create a hole.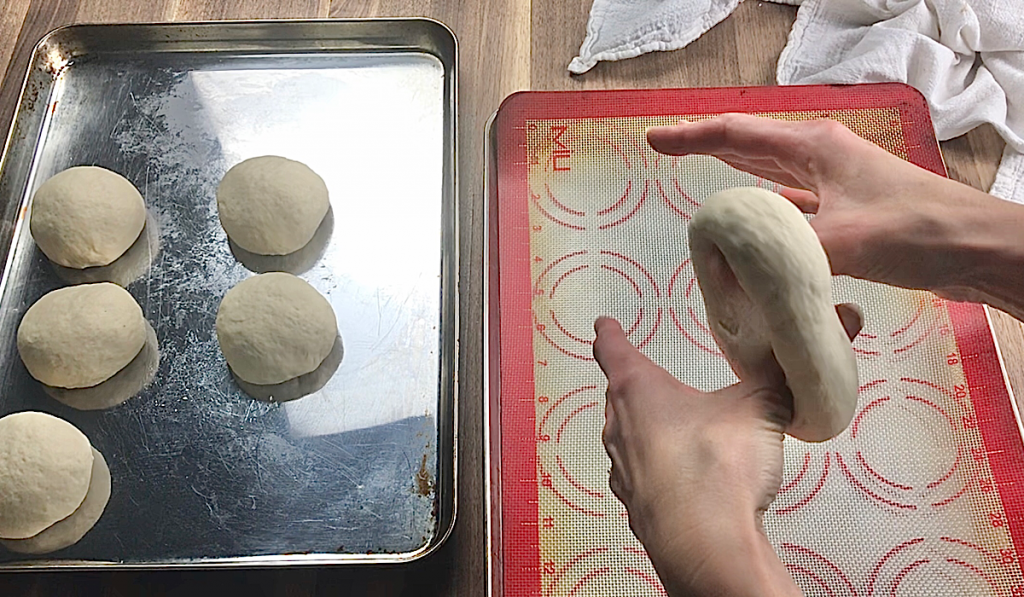 With both hands, place your thumbs into the hole and role the dough around your thumbs like a wheel to widen the hole.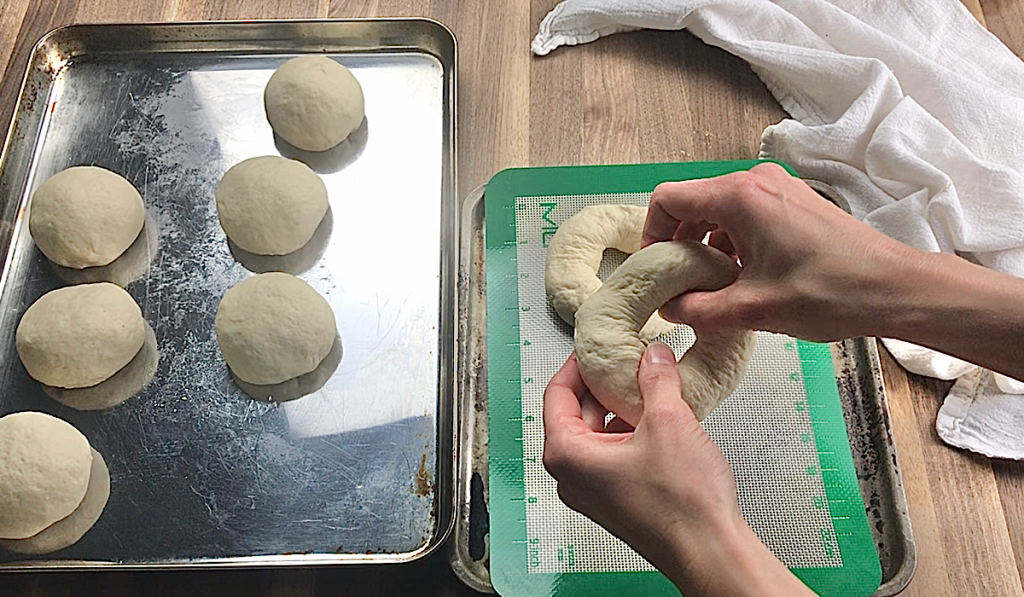 Place on parchment paper (or silicone baking sheet) on top of a cookie sheet. As you lay the bagel down, slightly invert and twist the center hole under the bagel. This will keep the bagel from pinching back together and losing your hard earned bagel hole.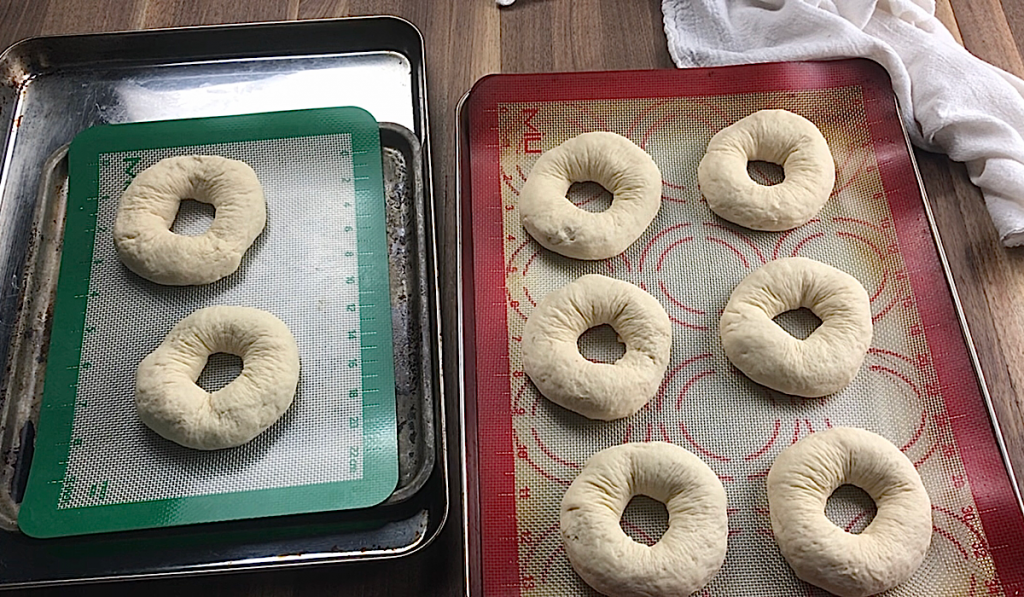 Proof in slightly warmed oven for 2 hours. Try not to go under the 2 hour mark. This time allows the bagels to get nice and puffy and nearly double in size.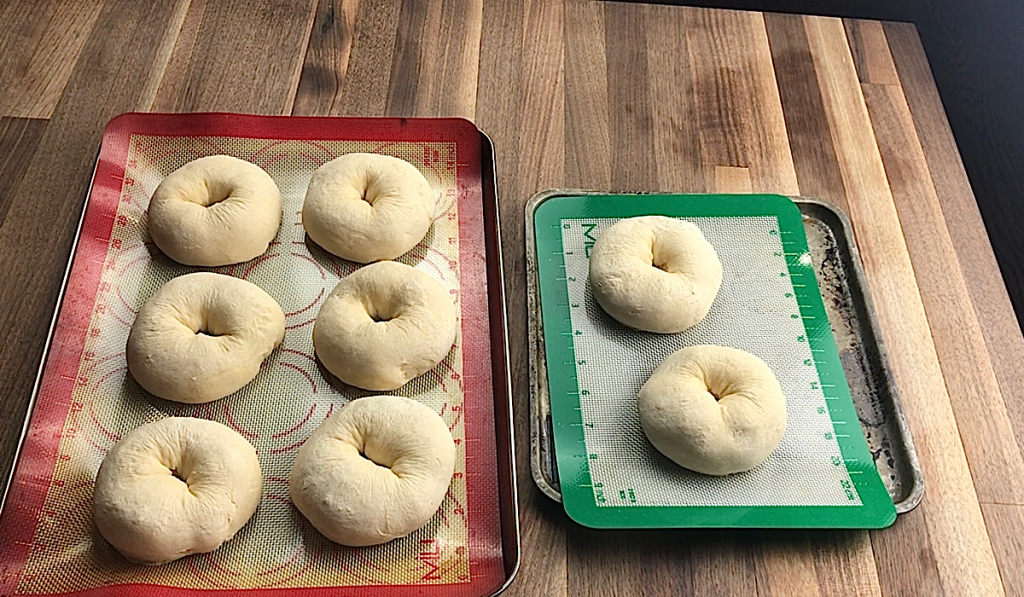 Fun Part: Boiling and Toppings
Fill a large pot 2 inches deep with water and bring to a roaring boil. Add 1 Tablespoon of baking soda. Stand back, because it may appear your water will explode after you drop in the baking soda, but it's all part of the process.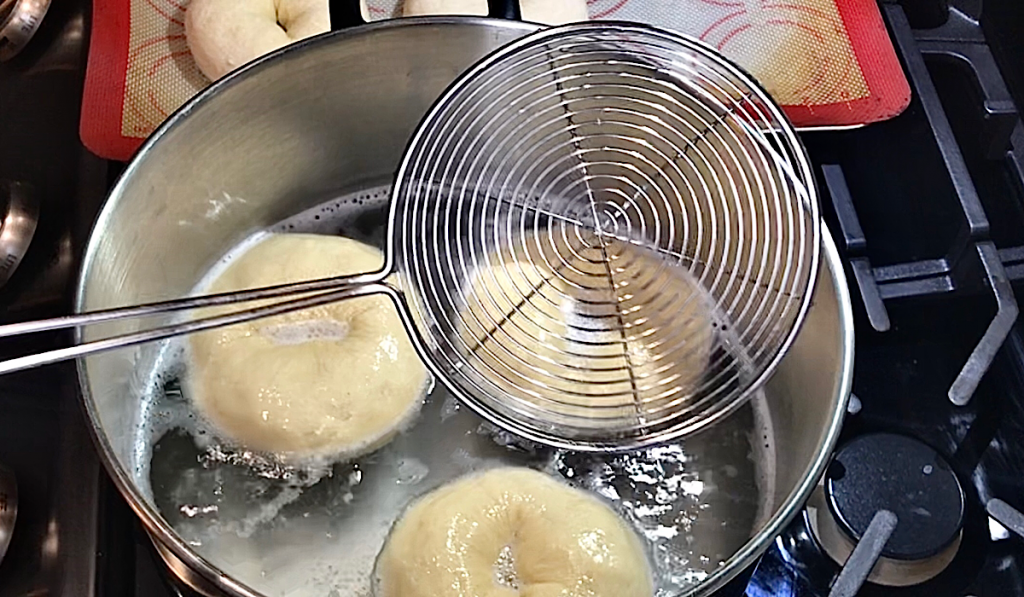 Take your plump and puffy bagels, and apologize for what you're about to do to them. Gently place them into the boiling water 2 or 3 at a time. Give your bagels a boiling bath for 30 seconds on each side. This slightly cooks the outside of the bagel, to help hold them together when you finish them off in the oven.
After the bagels have been bathed on each side for 30 seconds, remove with slotted spoon and slightly blot bottom of bagels over towel so they aren't dripping wet. Add back to your parchment paper.
Move quickly because they will dry fast. Top bagels with your favorite toppings (suggestions given below).
Continue this process until all your bagels are bathed and dressed in seasonings.
Bake 400 degrees for 15 minutes or until golden brown.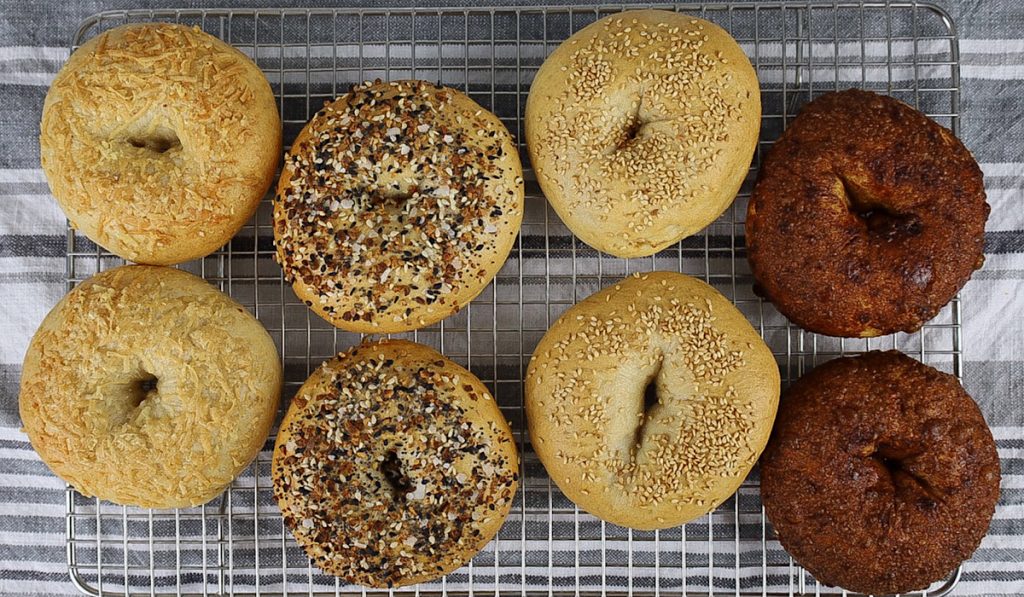 Tips for Success:
Be sure your sourdough starter passes the float test before making the bagels. (Fill a small cup with water and drop one spoonful of starter into the water. If it floats, your starter is active enough to ferment and grow your bagel dough)
Place bagel dough in greased bowl. Cover top of bowl with plastic wrap to prevent dough from drying out. Warm oven for a few seconds to create a warm environment for your dough to activate and grow. Place dough in slightly warmed oven for 8-12 hours to double in size.
Weigh each dough ball to ensure you have uniform and even sized bagels.
After proofing bagels for 2 hours, you may pop in the fridge overnight or until you're ready to bake them. This does no harm to the bagels, and allows them to ferment that much longer. Just be sure to pull them out of the fridge 30 minutes to an hour before baking to allow them to come back to room temperature.
If you love yourself a well seasoned bagel, place your seasoning into a bowl and dip in your whole bagel.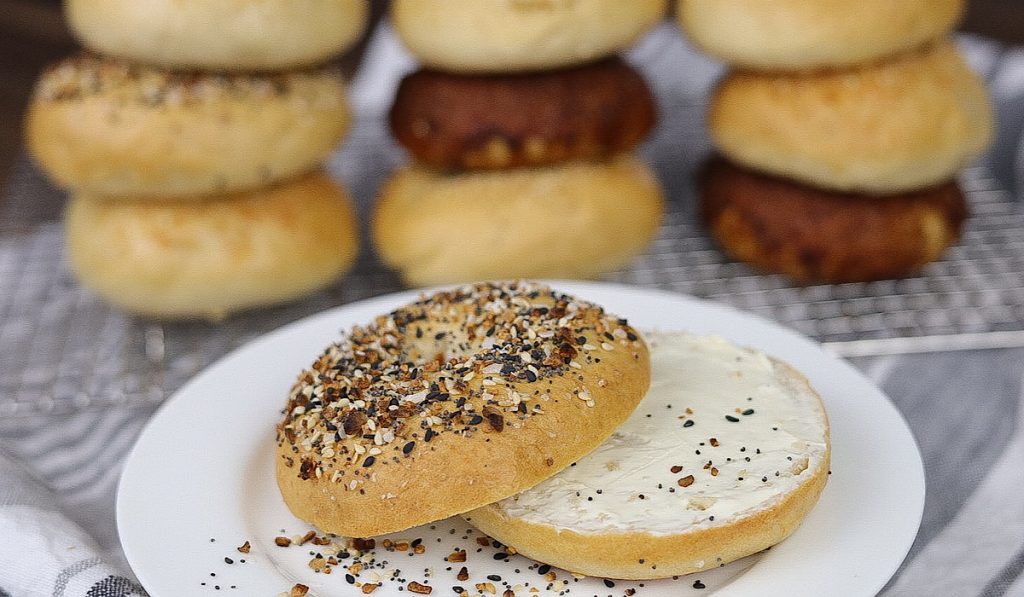 Topping Choices:
Everything but the Bagel (Does adding this to an actual bagel, change its name?)
Fresh grated parmesan cheese
Cinnamon/coconut sugar (my kids favorite!)
Sesame seed
Poppy seed
Rosemary and sea salt
Let me know what options are your family's favorite in the comments below! Would love to add more to my list!
Pin for Later: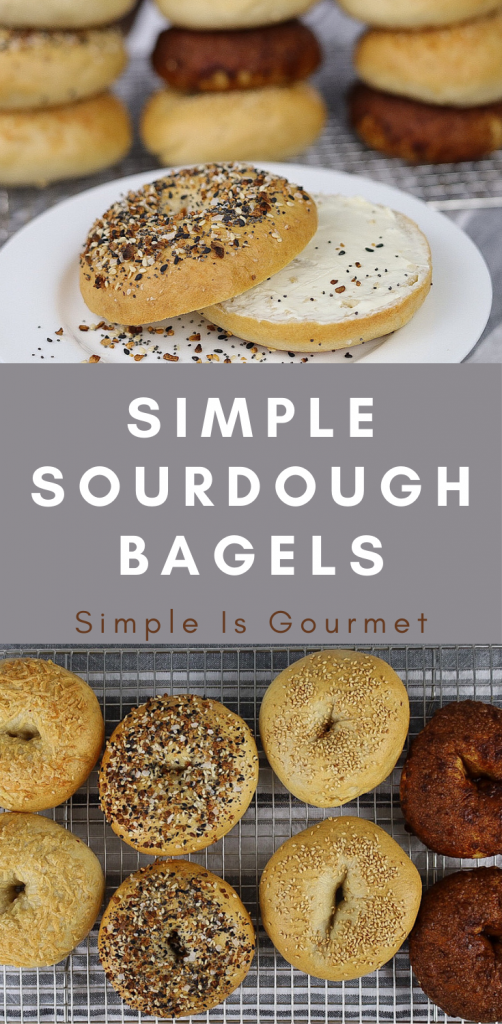 Let's Bake!
Sourdough Bagels
Ingredients
200 grams active starter (passes float test)
285 grams filtered water
600 grams unbleached bread flour
2 T honey
2 tsp unrefined salt
(1 Tbsp sugar OR baking soda to add to water bath after final proof)
Instructions
Mix together active starter, water, flour, honey, and salt in stand mixer for 5-7 minutes, or by hand for 10-15 minutes. *Texture will be very dense and heavy, yet moist to the touch but should not stick to your finger.
Place dough in large greased bowl and cover with plastic wrap to prevent top of dough from drying out. Ferment for 8-12 hours. *I recommend warming oven for a few seconds, and placing bowl inside. This will help activate your starter to better ferment your dense dough ball, and help it double in size. If you go this route you may only need to ferment 6 hours before shaping into bagels.*
After dough has fermented and doubled in size, remove and portion out 10 even dough balls. *Use a scale to weigh each ball evenly.
Roll dough into 10 tight balls *Pull sides of dough underneath to create a tight round ball.
Place each ball seam side down, and rest for 5 minutes.
To create bagel hole, push your thumb and middle finger into center of dough ball.
To widen the hole place both thumbs into hole, and roll dough around your thumbs like a wheel.
As you lay the bagel down onto a parchment paper lined cookie sheet, slightly invert and twist the center hole under the bagel. It will wrinkle the inner hole slightly. *This will keep the bagel from pinching back together and losing your hard earned bagel hole.
Proof bagels in slightly warmed oven again for 2 hours. *They should double in size.
After proof, fill a large pot 2 inches deep with water and bring to a boil on the stove. *Now is a good time to preheat your oven to 400 degrees
After water comes to a roaring boil, drop 1 Tbsp of sugar or baking soda into boiling water.
Immediately place 2-3 bagels into boiling water. *work only a few at a time for better control to well season after boiling
Boil each bagel for 30 seconds on EACH side. *I set the timer on my stove for 10 minutes, and as I drop my bagels in, I refer to the timer and so I know when 30 seconds has gone by.
Remove bagels with slotted spoon, and slightly blot bottom of bagel on towel to remove dripping excess water before laying back down onto parchment paper.
Immediately season bagels while the tops are slightly wet with your favorite seasoning. *or drop into a bowl of your favorite topping to season the whole bagel
Continue until all bagels are boiled and seasoned.
Bake at 400 degrees for 15 minutes, until golden brown.
Cool on wire rack and enjoy!
Notes
Want to ferment your bagels longer? After proofing formed bagels for 2 hours, you may wrap cookie sheets with plastic wrap and put in the fridge to cook the next day. Just bring bagels to room temperature for at least 30 minutes before boiling.
Links:
The following are affiliate links to my amazon shop.