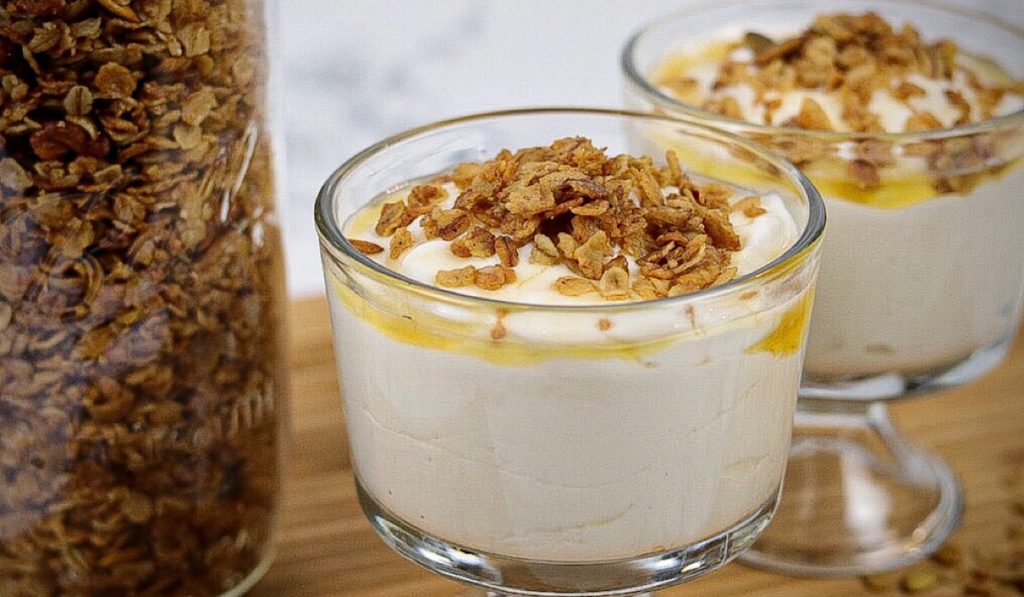 Instant Pot yogurt seems intimidating. But I promise it's so simple! Spend a little bit of time and creativity to make the best gallon of pure homemade yogurt you have ever had. Your body will thank you.
Why make Instant Pot yogurt?
First of all, it's delicious! The creativity for flavorizing your yogurt is endless, from chocolate to fruit to vanilla. And the best part is, you can make it free of refined sugars and unnecessary additives (Click here to read my Why behind sugars). Most store bought yogurts contain heavy amounts of sugars and other additives like natural flavors (which is a glorified term for Artificial), GMO corn starch for thickening and coloring for a pretty appearance. No thanks. I'll pass and make the real good stuff at home with ingredients I can understand and pronounce.
Second, you can make it as creamy or as thick as you like. Do you like yogurt smooth and creamy? What about rich, thick and decadent greek yogurt? Or how about with added fruit? Think of this yogurt like a blank canvas and you get to create whatever flavor and texture you like.
Third, making yogurt is economical. Organic plain greek yogurt costs close to $5 for a tiny tub. With our family of six, this store bought yogurt would be gone in one afternoon snack. But I can make more than three times that amount for the cost of just one gallon of milk. Sounds like a no brainer.
If you prefer video:
What milk can I use?
First of all, do not use ultra pasteurized milk. The milk is so processed, it's hard to say if there is even any nutrition left – so just avoid! Second, whether you know me or not, let me just say that fat is where it's at! Meaning the higher fat content the better. So whole milk would be the best nutritional option. I am all about consuming healthy fats and the more omega 3 fatty acids the better. (For more info on Why to eat good Fats, click here) In short, always go for the WHOLE milk!
I have used 2% milk before, and it does work. I do not suggest using 1% milk and please do not try using skim milk!
What ingredients do I need to make Instant Pot yogurt?
Instant Pot- most instant pots have the yogurt option
Inoculant: ¼ cup Plain Greek yogurt. Find the small 7oz container. FAGE is a great option. Make sure the only ingredients are pasteurized milk and live active cultures. NO ADDED SUGARS OR GUMS!
1 gallon of whole milk (2% is fine, I always recommend organic)
2 Tbsp. gelatin (I love Great Lakes or Vital Proteins)
¼ cup honey (more depending on how sweet you prefer your yogurt)
1 cup any fruit flavor you choose
2 Tbsp Pure Vanilla
What Tools do I need?
Whisk
Strainer
Large bowl
Cheesecloth, Tea Towel or Nut Milk Bag (for straining whey from yogurt)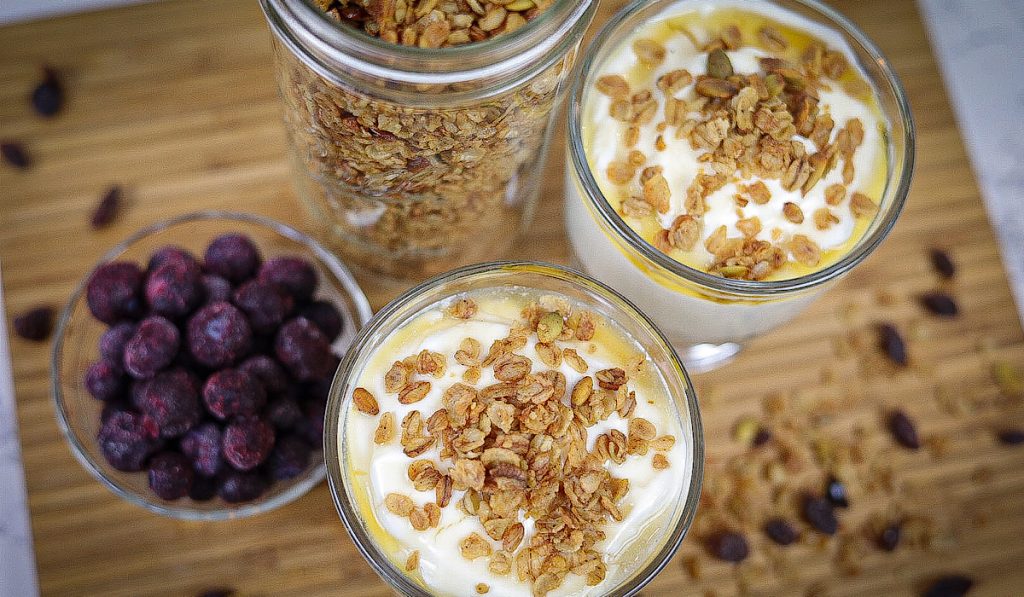 Tips:
Make sure to use a clean IP.
Do not use ultra pasteurized milk.
When boiling, to get IP to reach 180 degrees, use the sauté setting.
When cooling milk down to 105 degrees, rest on the counter for 2-3 hours or place in an ice bath in the sink for 15-20 minutes.
For a more sharp flavored yogurt, increase the incubation time to 9 or 10 hours. Or for a lactose free option, set the timer to 24 hours!
To flavorize, purée fruit in a mixer until smooth. You can also use fruit juice.
Flavor Ideas:
Our family favorite: 1 cup of orange juice, 1/4 cup honey and 2T vanilla.
Strawberry yogurt: 1 cup strawberries puréed in blender, 1/4 cup honey or maple syrup, 2T vanilla
Blueberry yogurt: 1 cup blueberries puréed in blender, 1/4 cup honey or maple syrup, 2T vanilla
Mango yogurt: 1 cup mangoes puréed in blender, 1/4 cup honey or maple syrup, 2T vanilla
Do you see the pattern? Purée your fruit of choice, or get creative and mix a few fruits together. Sweeten with honey or maple syrup, add some vanilla and mix all together into your strained yogurt.
What is your favorite yogurt flavor? I'd love to hear your family favorites in the comments below.
Pin For Later: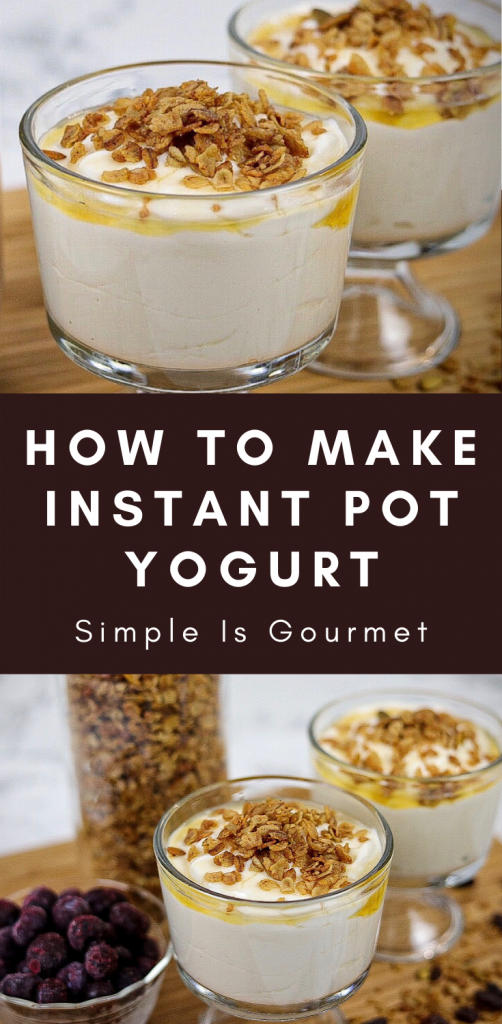 Let's make some Yogurt!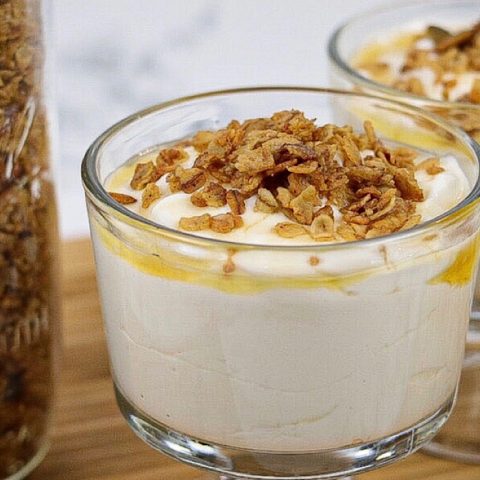 How to Make Instant Pot Yogurt
Ingredients
1 gallon whole milk (2% works too, I always recommend organic)
1/4 cup greek yogurt (the only ingredients should be pasteurized milk and live cultures)
2 Tbsp gelatin (optional thickening agent)
1/4 cup Honey to sweeten (or sweetener of choice)
1 cup puréed fruit for flavoring
2 Tbsp Vanilla
Instructions
Push sauté on your Instant Pot (IP). Add about 2 cups milk to the bottom of IP. Add 2 Tbsp gelatin to the milk. As the IP warms up, whisk gelatin into milk until dissolved.
Add remaining milk to IP. Whisk once more.
Add lid, (don't worry about sealing or venting, you won't pressurize at all for yogurt) Click yogurt button until it reads 'boil'. Leave alone for about 30 minutes until IP beeps letting you know the boil session is over.
With thermometer, check the milk temperature. Mine is usually around 160 degrees F after it boils. We need to bring it up to 180 degrees F. If yours is under 180 degrees, push sauté again and whisk milk around until it reaches 180 degrees.
Remove the stainless pot insert. We need to bring the milk down to 105 degrees. Now you have 2 options: Rest on counter for 2-3 hours OR place pot in a sink filled with cold water and ice. This will bring the milk temp down in about 15-20 minutes. Whisk milk around a few times during your wait. Bring yogurt down to 105 degrees. (bringing temp down will ensure you are not killing the live cultures in the greek yogurt when you add them next)
After yogurt has come down to 105 degrees, whisk 1/4 cup greek yogurt into milk. This will inoculate the milk with probiotics.
Add pot back into IP.
Push yogurt button until it reads 08:00 for 8 hours. This starts your incubation process. Don't be alarmed as the timer will count up instead of counting down. During this time the probiotics from the greek yogurt will multiply and in 8 hours you will have delicious, creamy yogurt.
After the timer goes off 8 hours later, remove lid. Your yogurt has thickened and you may see a separation of yellow whey. This is good. You now need to strain out some of that whey. Scoop out the yogurt and add it to either a tea towel or a cheesecloth laid over a colander, or to a nut milk bag. Place a large bowl underneath to catch the whey as it drips.
Allow yogurt to drain and drip for 30 minutes to 1 hour, or longer depending on how thick you prefer your yogurt. I let mine strain for about 45 minutes (set yourself a timer).
Remove yogurt from towel or nut milk bag and add into a large bowl. Don't throw away the whey that's dripped into your bowl because it's full of probiotics! Save that nutrition in a glass jar to add to your next smoothie.
Now comes the fun part. Flavorizing! The options are endless. Purée any kind of fruit and add 1 cup or more of your favorite flavor. Then sweeten with around 1/4 cup of honey or maple syrup and 2 Tbsp of vanilla. Taste as you go, and adjust to your preference.
Store in glass jars or bowls and place in refrigerator to allow the yogurt to set and firm up for at least 6 hours, overnight is best. As the it cools, it will become nice and thick.
Add some crunch with granola, fresh fruit and an extra drizzle of honey and enjoy!
Notes
Yogurt will stay good in the refrigerator for up to 2 weeks.
Shop:
The following are affiliate links to my Amazon shop.