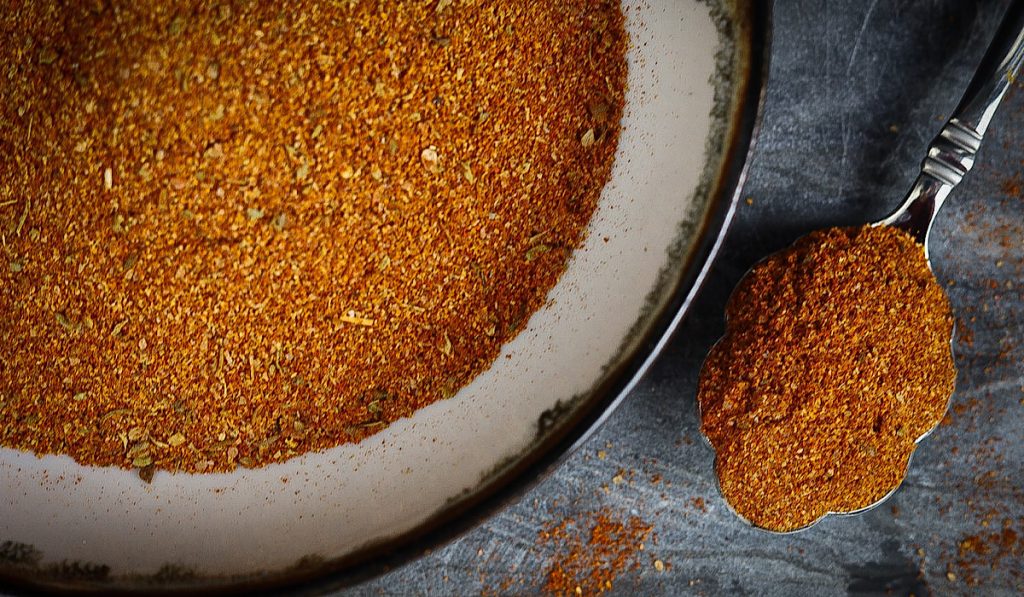 This Homemade Taco Seasoning is the perfect blend of bold spices. With the combination of just 8 ingredients you can enhance your tacos, fajitas, soups, vegetables and more.
I used to keep taco seasoning packets on hand at all times. They were cheap and convenient whenever making a quick taco dish. However, when I started paying attention to ingredients, I ditched the packets and switched to making my own. Not only is it more economical this way, but also a lot healthier. And I make it in bulk so I still always have it on hand.
Quick Story
I was so excited after my first homemade taco seasoning attempt that I invited my parents over for dinner to try it. I prepared a full spread of all the toppings and extras that would go with our taco night.
But on this occasion I was cooking with ground venison, which is more gamey in flavor than rich, fatty ground beef. And at the time it was my tendency to go conservative on the seasoning. I seasoned two pounds of venison with only 1 Tablespoon of my seasoning. On top of that, I didn't cook the meat with any salt or pepper either. So we basically just ate plain ground venison, which if you've ever had, is not the best on its own.
I remember my parents were really quiet at first. Then my mom made a comment about how "good" it was, the way moms do, kindly encouraging their children. I will never forget that meal. All the extra toppings on the table would not have covered up the plain gamey flavor of the venison.
Let's just say I learned from that experience, and others like it, and have improved my seasoning skills. I'm not afraid to boldly season my food anymore. Once I figured that out, my cooking game has been spot on.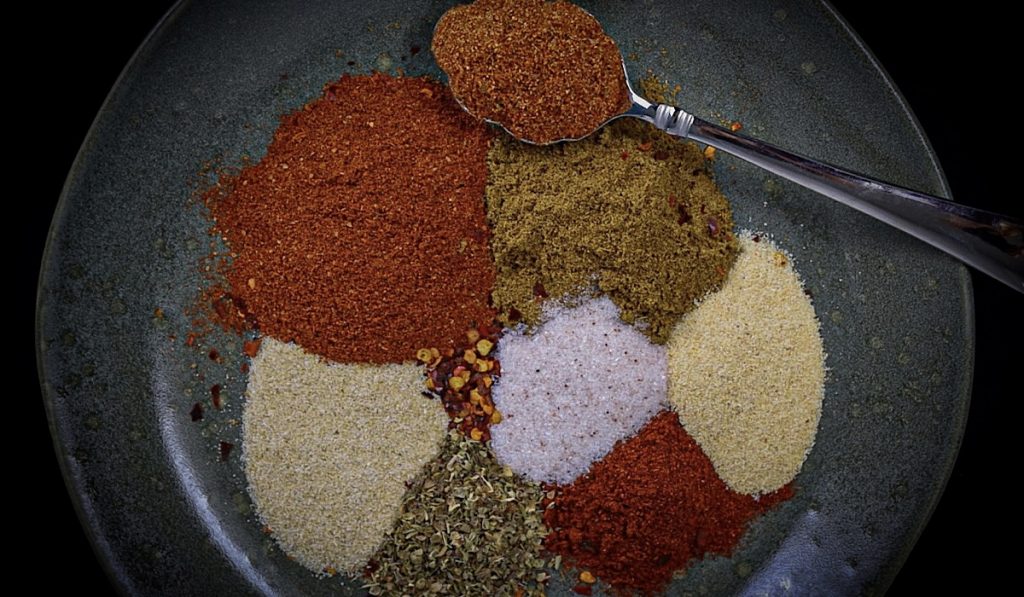 Spices Used to make Homemade Taco Seasoning
Chili Powder
Cumin
Garlic Powder
Oregano
Paprika (or Smoked Paprika)
Onion Powder
Salt
Optional to add heat: Red Pepper Flakes
How to Make Homemade Taco Seasoning
Mix all the ingredients together. It's that simple.
Just like that you have yourself a delicious taco seasoning that's free! Well, free of GMO ingredients like Corn Starch and Maltodextrin. Free of inflammatory vegetable oils like soybean and canola (I don't even know why those are added). Free of anti caking agents and natural flavorings. And free of all the unnecessary things you find within those convenient, cheap little packages.
Below I included 2 recipes. The first one is a pre measured blend for approximately 1 pound of meat. The second is a bulk seasoning blend that will store perfectly inside of a wide mouth 24 oz sized mason jar.
I always keep a jar of this taco seasoning on hand because it makes for a quick, easy delicious meal. For each pound of meat just add 3 tablespoons of Homemade Seasoning. So simple. So good!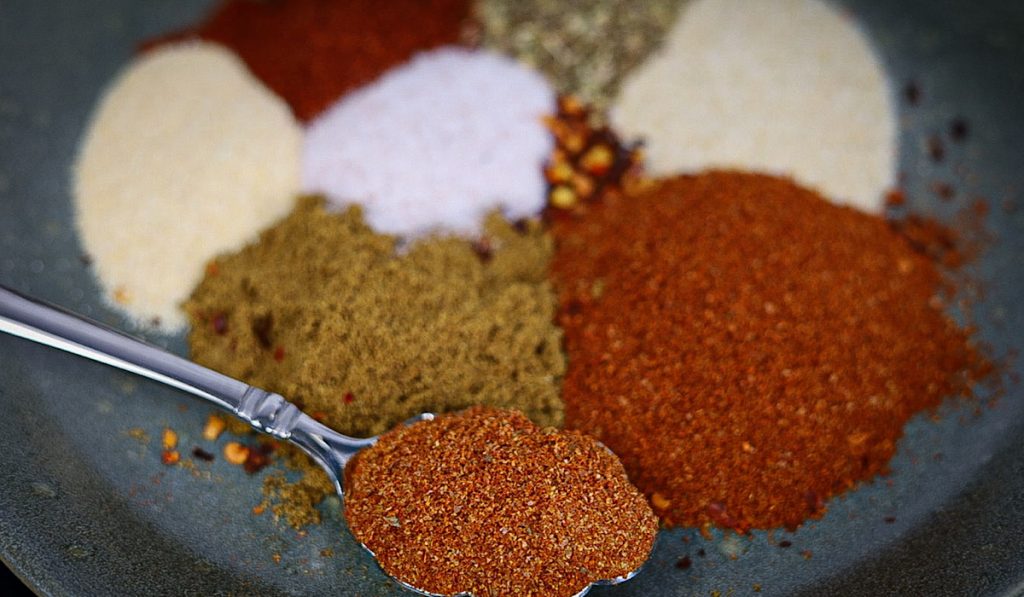 Where Can I buy spices in bulk?
I recommend purchasing organic spices. It is one of those small choices you can make toward eating healthier, especially if you cook with spices daily.
If you are a Thrive Market member, they have great prices on bulk organic spices. This is my go-to because I make regular purchases from this online grocery store.
Check your local markets or health food stores.
Mountain Rose Herbs has a wonderful selection of organic spices. I love this company and all their products!
Pin for Later: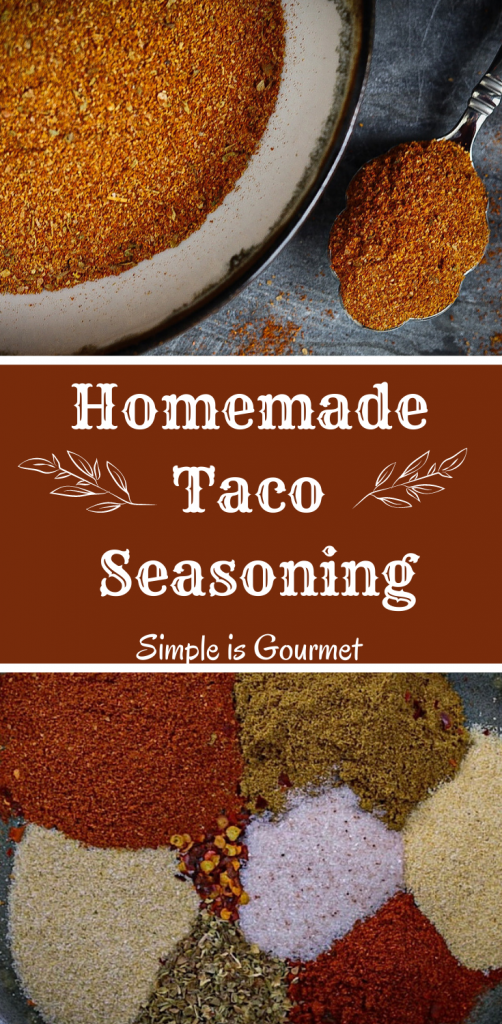 Homemade Taco Seasoning for 1 pound of ground meat:
Homemade Taco Seasoning
This recipe is for 1 pound of ground meat.
Ingredients
1 Tbsp Chili Powder
2 tsp Cumin
1 tsp Garlic Powder
1 tsp Onion Powder
1 tsp Oregano
1 tsp Paprika or Smoked Paprika
1/2-3/4 tsp Unrefined Salt (to taste)
Optional added heat: 1/4 tsp red pepper flakes
Instructions
Mix all ingredients together.
To season ground meat: Mix all seasonings into 1 pound of ground meat along with 2/3 cup water. Simmer on low until water is reduced.
Bulk Homemade Taco Seasoning – 24oz Wide Mouth Mason Jar:
Homemade Taco Seasoning
Bulk recipe to make 24oz jar of
Homemade Taco Seasoning
Ingredients
3/4 cup Chili Powder
1/2 cup Cumin
1/4 cup Garlic Powder
1/4 cup Onion Powder
1/4 cup Oregano
1/4 cup Paprika or Smoked Paprika
3 Tbsp Unrefined Salt
Optional for Heat: 1 Tbsp Red Pepper Flakes
Instructions
Mix all ingredients together and store in 1 Pint Mason Jar.
Use 3 Tbsp seasoning per pound of ground meat. Add in 2/3 cup water to meat and reduce until liquid is gone.
What will you make with Homemade Taco Seasoning?